3rd Annual Le Roy Rotary Invitational Wrestling Tournament
December 14, 1985 @ Le Roy High School (Le Roy, New York)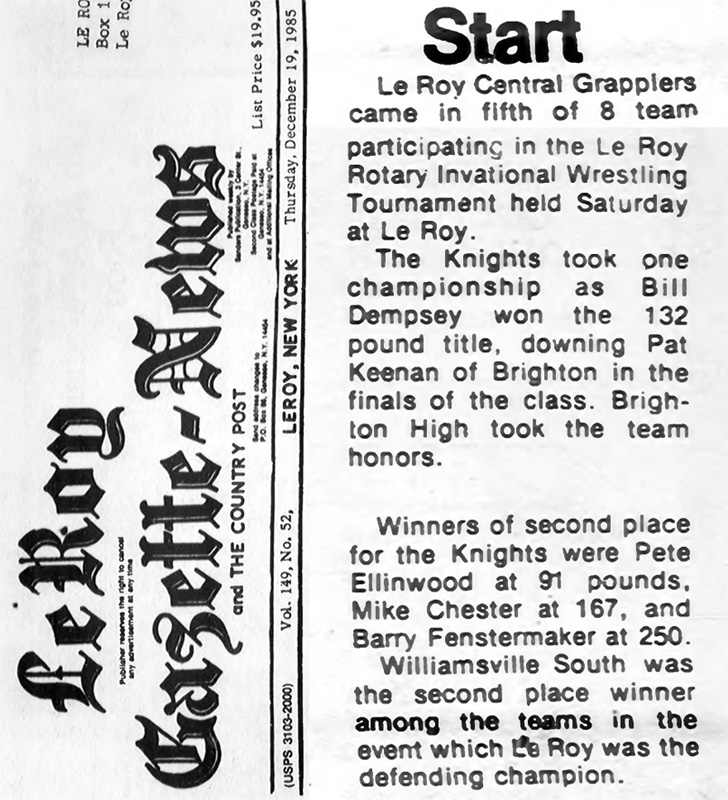 Start
Le Roy Central Grapplers came in fifth of 8 teams participating in the Le Roy Rotary Invitational Wrestling Tournament. SOURCE: Le Roy Gazette-News, December 19, 1985. Click for larger image.

Varsity

Team Final

Brighton 179, Williamsville South 118, Irondequoit 90, Starpoint 89, Le Roy 88, Albion 80, McQuaid Jesuit 69, Hornell 51.5

Aggregate Pin Award - Bill Schoenle (WS)
Outstanding Wrestler Award - Rawn Mitchell (Albion)

Championship Final (1st)



IF YOU HAVE ANY ADDITIONAL PHOTOS OR DOCUMENTATION FROM THIS EVENT, CONTACT INFO@ARMDRAG.COM.

Comments (3rd Annual Le Roy Rotary Invitational Wrestling Tournament)