Rochester Institute of Technology vs. University at Buffalo
March 5, 1958 @ Ritter-Clark Memorial Gymnasium (Rochester, New York)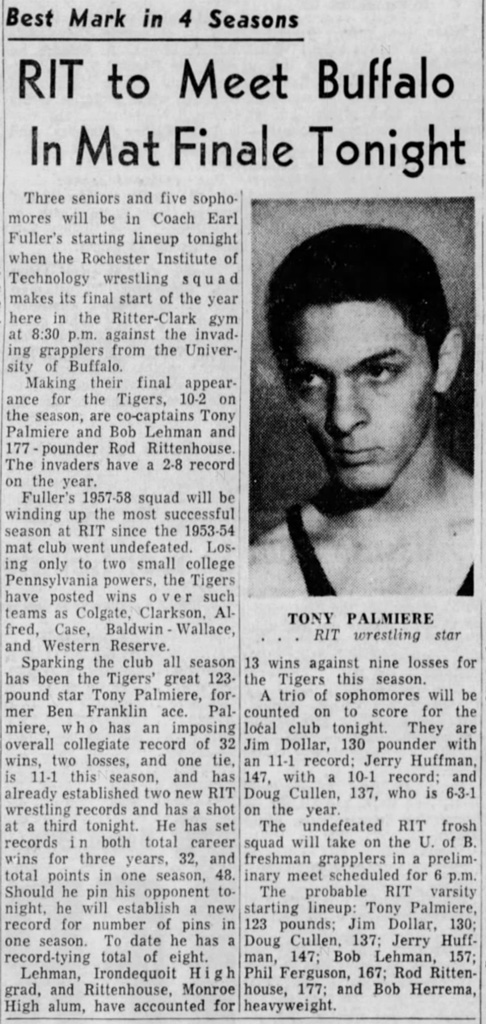 RIT to Meet Buffalo in Mat Finale Tonight
Three seniors and five sophomores will be in Coach Earl Fuller's staring lineup tonight when the Rochester institute of Technology wrestling squad makes its final start of the year here in the Ritter-Clark gym at 8:30 p.m. against the invading grapplers from the University of Buffalo. SOURCE: Rochester Democrat and Chronicle, Wednesday, March 5, 1958. Reproduced by armdrag.com with permission. Click for larger image.

Varsity
Rochester Institute of Technology [NY] 26, University at Buffalo [NY] 10
IF YOU HAVE ANY ADDITIONAL PHOTOS OR DOCUMENTATION FROM THIS EVENT, CONTACT INFO@ARMDRAG.COM.

Comments (Rochester Institute of Technology vs. University at Buffalo)