5th Annual Interstate Intercollegiate Individual Invitational Wrestling Tournament
March 18, 1938 - March 19, 1938 @ Case School of Applied Science (Cleveland, Ohio)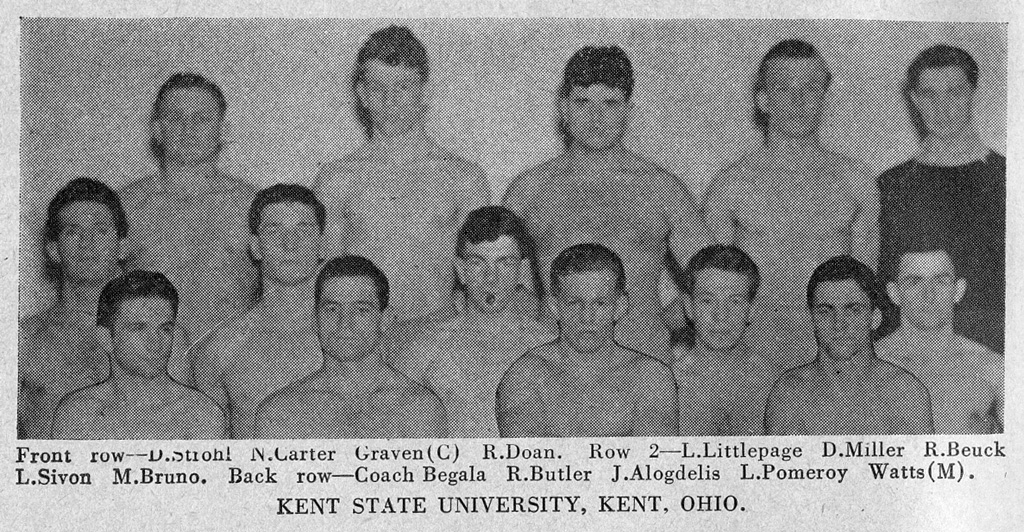 Kent State University, Kent, Ohio
1938 FOUR-I WRESTLING TOURNAMENT TEAM CHAMPIONS. Front Row: D. Strohl, N. Carter, Graven (Captain), R. Doan. ROW 2: L. Littlepage, D. Miller, R. Beuch, L. Sivon, M. Bruno. BACK ROW: Coach Begala, R. Butler, J. Alogdelis, L. Pomeroy, Watts (Manager). SOURCE: 1939 NCAA Wrestling Guide. Click for larger image.

Varsity

Team Final

Kent State University [OH] 38, Michigan State University [MI] 13, West Virginia University [WV] 11, Case School of Applied Science [OH] 9, Mount Union College [OH] 3, Rochester Athenaeum and Mechanics Institute 1, Denison University [OH] 0, Ohio University [OH] 0, University of Findlay [OH] 0, Waynesburg University [PA] 0

Place Winners

118 1. Paul Satterfield (WVU)
2. Dale Strohl (KSU)
3. Jim McGrane (WU)
126 1. Russell Doan (KSU)
2. Bryan Ball (MSU)
3. Louis Jiminez (CSAS)
135 1. Buell Graven (KSU)
1. Earle Lancaster (WVU)
3. Jim Castellano (RAMI)
145 1. Cliff Freiberger (MSU)
2. Dick Rand (WU)
3. Lynn Sivon (KSU)
155 1. Dave Pletz (MSU)
2. Leonard Pomeroy (KSU)
3. John Hammer (WVU)
165 1. Nick Carter (KSU)
2. Carlson (CSAS)
3. Earl Richards (WU)
175 1. Al Nason (CSAS)
2. Greenisen (MUC)
3. Don Miller (KSU)
HWT 1. Carmen Falcone (KSU)
2. John Sullivan (WU)
3. Charles Zentgraf (CSAS)

Results not entered.

IF YOU HAVE ANY ADDITIONAL PHOTOS OR DOCUMENTATION FROM THIS EVENT, CONTACT INFO@ARMDRAG.COM.

Comments (5th Annual Interstate Intercollegiate Individual Invitational Wrestling Tournament)