11th Annual Interstate Intercollegiate Individual Invitational Wrestling Tournament
March 12, 1948 - March 13, 1948 @ Case Institute of Technology (Cleveland, Ohio)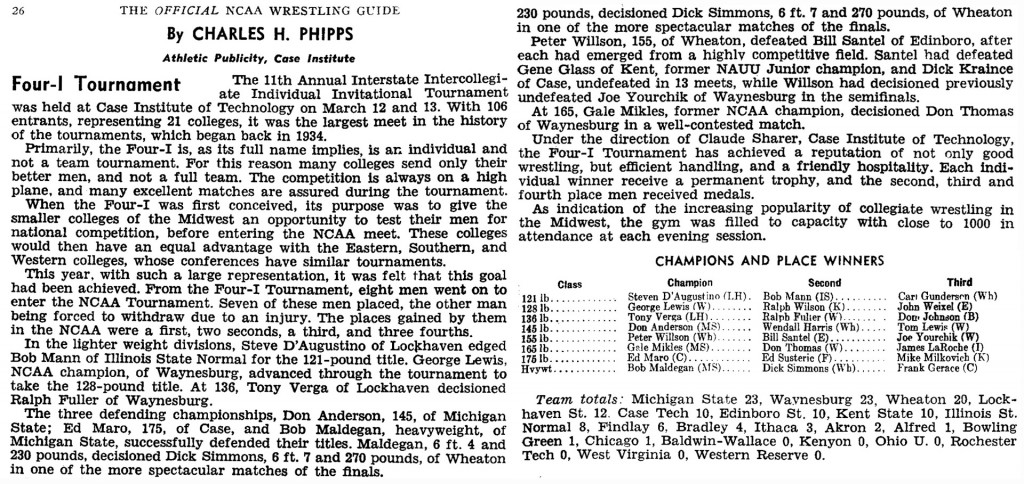 Four-I Tournament
The 11th Annual Interstate Intercollegiate Individual Invitational Tournament was held at Case Institute of Technology on March 12 and 13. With 106 entrants, representing 21 colleges, it was the largest meet in the history of the tournaments, which began back in 1934. SOURCE: 1949 NCAA Wrestling Guide. Click for larger image.

Varsity

Team Final

Michigan State University [MI] 23, Waynesburg University [PA] 23, Wheaton College [IL] 20, Lock Haven University [PA] 12, Case Institute of Technology [OH] 10, Edinboro University [PA] 10, Kent State University [OH] 10, Illinois State University [IL] 8, University of Findlay [OH] 6, Bradley University [IL] 4, Ithaca College 3, University of Akron [OH] 2, Alfred University 1, Bowling Green State University [OH] 1, University of Chicago [IL] 1, Baldwin Wallace University [OH] 0, Kenyon College [OH] 0, Ohio University [OH] 0, Rochester Institute of Technology 0, West Virginia University [WV] 0, Western Reserve University [OH] 0

Championship Final (1st)


Consolation Final (3rd)


Consolation Final (5th)



IF YOU HAVE ANY ADDITIONAL PHOTOS OR DOCUMENTATION FROM THIS EVENT, CONTACT INFO@ARMDRAG.COM.

Comments (11th Annual Interstate Intercollegiate Individual Invitational Wrestling Tournament)