8th Annual Southern Tier Wrestling Conference Holiday Tournament
December 19, 1969 - December 20, 1969 @ Randolph High School (Randolph, New York)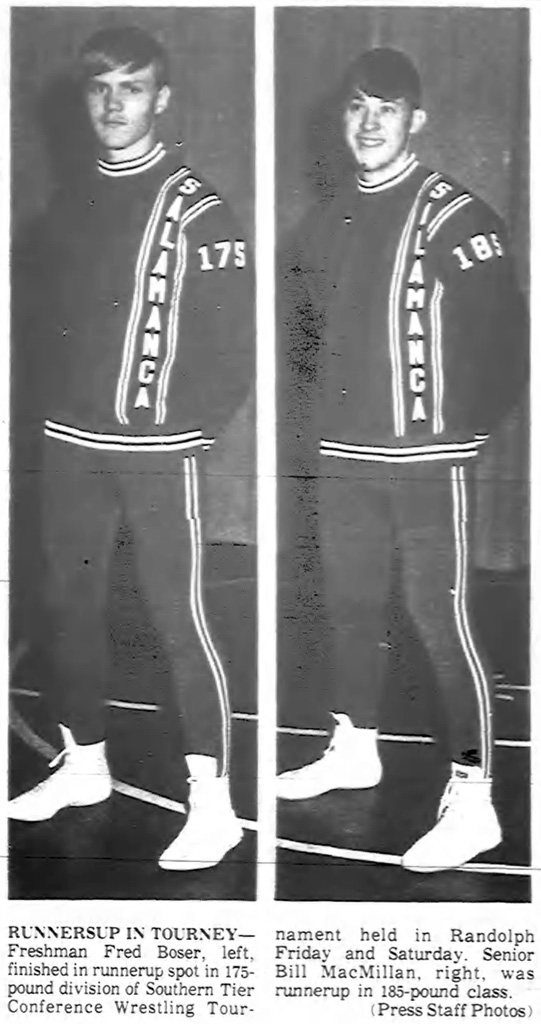 Runnersup In Tourney
Freshman Fred Boser, left, finished in runnerup spot in 175-pound division of Southern Tier Conference Wrestling Tournament held in Randolph. Senior Bill MacMillan, right, was runner-up in 185-pound class. SOURCE: Salamanca Republican-Press, Monday, December 22, 1969. Click for larger image.
Varsity

Team Final

Southwestern 96, Cassadaga Valley 48, Eisenhower [PA] 45, Westfield 41, Salamanca 39, Falconer 36, Maple Grove 34, Randolph 34, Gowanda 23, Pine Valley 10, Panama 1, Ripley 1

Championship Final (1st)


Consolation Final (3rd)



IF YOU HAVE ANY ADDITIONAL PHOTOS OR DOCUMENTATION FROM THIS EVENT, CONTACT INFO@ARMDRAG.COM.

Comments (8th Annual Southern Tier Wrestling Conference Holiday Tournament)