8th Annual Geneva Panther Invitational Wrestling Tournament
January 10, 1987 @ Geneva High School (Geneva, New York)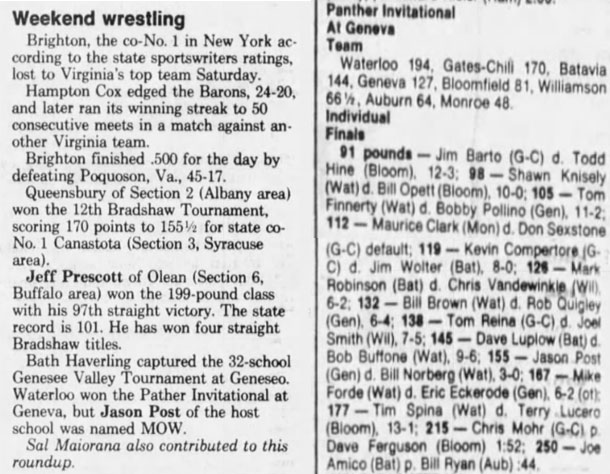 Panther Invitational
Waterloo won the Panther Invitational at Geneva, but Jayson Post of the host school was named MOW. SOURCE: Rochester Democrat and Chronicle, Monday, January 12, 1987. Reproduced by armdrag.com with permission.
Varsity

Team Final

Waterloo 194, Gates Chili 170, Batavia 144, Geneva 127, Bloomfield 81, Williamson 66.5, Auburn 64, Monroe (Rochester) 48

Outstanding Wrestler Award - Jayson Post (Geneva)

Championship Final (1st)



IF YOU HAVE ANY ADDITIONAL PHOTOS OR DOCUMENTATION FROM THIS EVENT, CONTACT INFO@ARMDRAG.COM.

Comments (8th Annual Geneva Panther Invitational Wrestling Tournament)