Alfred University vs. SUNY Cortland
January 15, 1927 @ Cortland Normal School (Cortland, New York)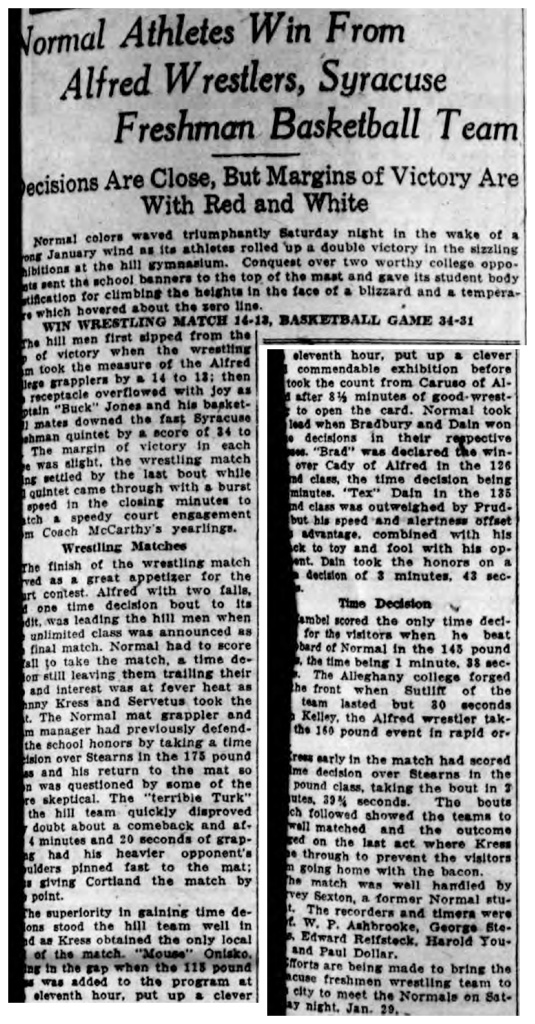 Normal Athletes Win From Alfred Wrestlers, Syracuse Freshman Basketball Team
Decisions are close, but margins of victory are with Red and White. Win wrestling match 14-13, basketball game 34-31. SOURCE: Cortland Standard, Monday, January 17, 1927. Click for larger image.
Slideshow: The Alfred Sun

Slideshow: Cortland Standard
Slideshow: Hornell Evening Tribune-Times

Varsity
SUNY Cortland (Cortland Normal School) [NY] 14, Alfred University [NY] 13
IF YOU HAVE ANY ADDITIONAL PHOTOS OR DOCUMENTATION FROM THIS EVENT, CONTACT INFO@ARMDRAG.COM.

Comments (Alfred University vs. SUNY Cortland)