Ithaca College Athletics Hall of Fame Induction Ceremony
October 21, 2017 @ Ithaca College (Ithaca, New York)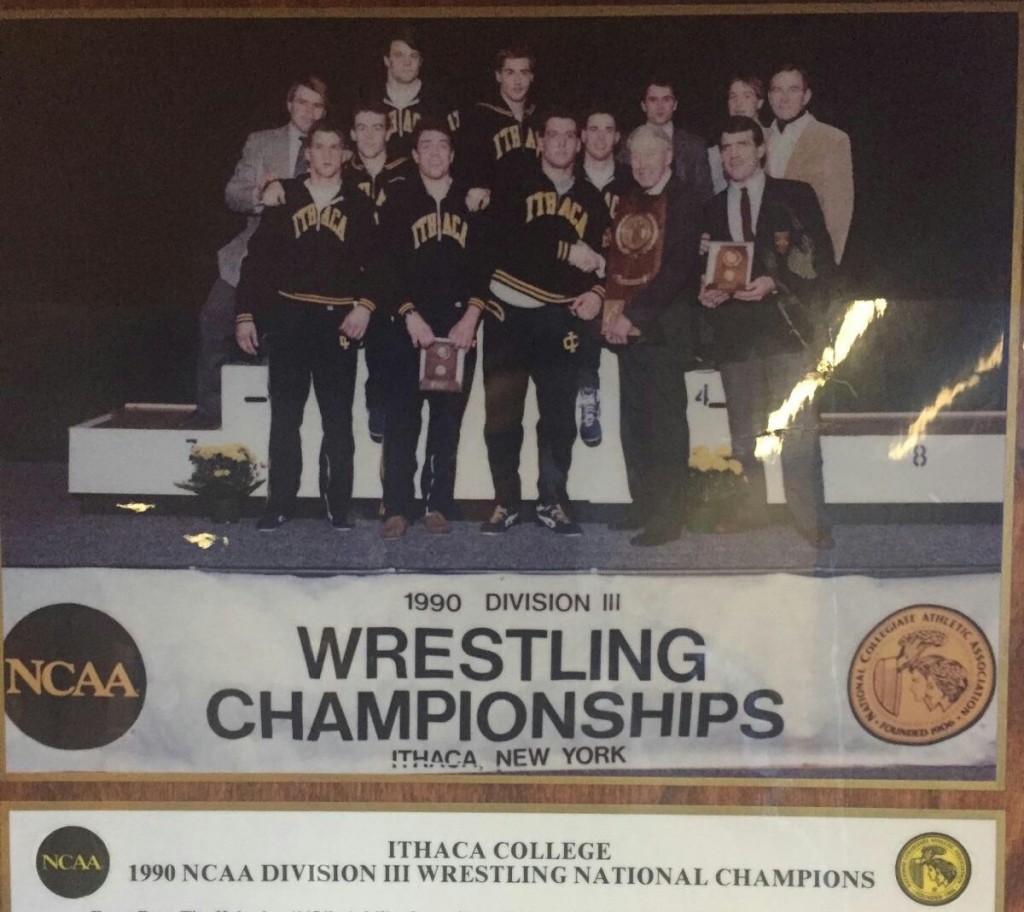 1990 NCAA Division III National Wrestling Champions
Provided by Ithaca College. Click for larger image.
ITHACA, N.Y. - Ithaca College Director of Intercollegiate Athletics and Recreational Sports Susan Bassett '79 is pleased to officially announce the 48th Hall of Fame class. This distinguished group of 10 individuals and two teams will be enshrined into the illustrious Hall of Fame on Saturday, October 21, 2017 in the Athletics and Events Center. IC alumnus and ESPN SportsCenter anchor Kevin Connors '97 will return as the Master of Ceremonies for the third straight year.

"The Ithaca College Athletics Hall of Fame Induction Ceremony provides a time for the Bomber family to pause and celebrate our rich tradition of excellence in all sports. The 2017 Hall of Fame class represents the best of that tradition and will inspire us all to emulate their outstanding careers and accomplishments," said Bassett.

1989-90 ITHACA COLLEGE WRESTLING

Ithaca College's first back-to-back team national champions, the 1989 and 1990 wrestling program compiled an overall dual record of 22-10 during the title runs under the guidance of Hall of Fame head coach John Murray and assistant coach Dave Auble.

The Bombers won the 1989 national championship in University Heights, Ohio with 72.5 points, as five grapplers earned All-American recognition - three of which placed second in their respective weight classes - and two other qualified for the championships. All five that wrestled to All-America status won 30 or more bouts during the campaign.

Dan Bieller '90 (177 lbs), Mike Fusilli '91 (190 lbs.) and Rob Gross '90 (142 lbs.) all finished as national runners-up, while Joel Lamson '90 (126 lbs.) and Marty Nichols '90 (150 lbs.) placed fifth. Tim Cotter '90 (134 lbs.) and Randy Cotton '92 (heavyweight) also represented the Bombers as national qualifiers.

The follow year, Ithaca earned hosting rights for the national championships in Ben Light Gymnasium and defended its title from a season prior. The Bombers scored 81 points, which was 17 more than the runner-up from Ausburg. At the time, Ithaca was just the third NCAA Division III wrestling program to repeat as national champions.

Fusilli was an individual national champion in the heavyweight division with a 13-5 victory in the title bout. Lamson and Nichols were runners-up at 126 and 150, while Mike Cronmiller '90 (158) placed third and Gross was fifth at 142.

Cronmiller, Fusilli, Gross and Nichols are in Ithaca's Hall of Fame.
IF YOU HAVE ANY ADDITIONAL PHOTOS OR DOCUMENTATION FROM THIS EVENT, CONTACT INFO@ARMDRAG.COM.

Comments (Ithaca College Athletics Hall of Fame Induction Ceremony)