Bolivar vs. Wellsville
February 22, 1950 @ Bolivar Central School (Bolivar, New York)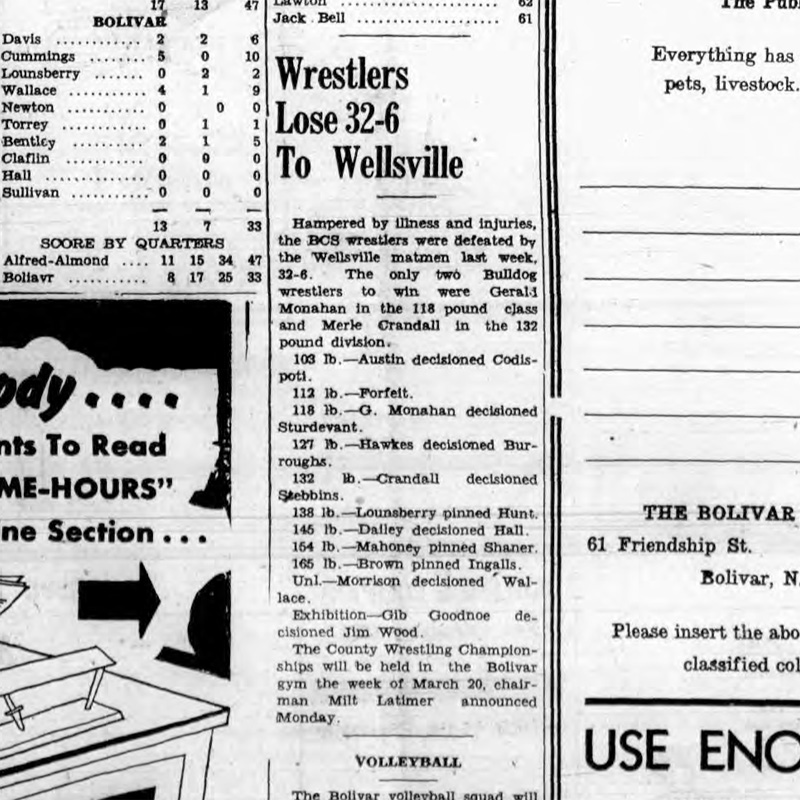 Wrestlers Lose 32-6 To Wellsville
Hampered by illness and injuries, the Bolivar wrestlers were defeated by the Wellsville matmen last week. The only two Bulldog wrestlers to win were Gerald Monahan in the 118 pound class and Merle Crandall in the 132 pound division. (NOTE: Hawkes, Bolivar 127-pounder, is also listed as winning. The score as listed adds up to 24-9.) SOURCE: The Bolivar Breeze, Thursday, March 2, 1950. Click for larger image.
Varsity | Allegany County League
Wellsville [NY] 32, Bolivar [NY] 6
IF YOU HAVE ANY ADDITIONAL PHOTOS OR DOCUMENTATION FROM THIS EVENT, CONTACT INFO@ARMDRAG.COM.

Comments (Bolivar vs. Wellsville)