1st Annual EWL Championships
February 27, 1976 - February 28, 1976 @ Rec Hall, Penn State (University Park, Pennsylvania)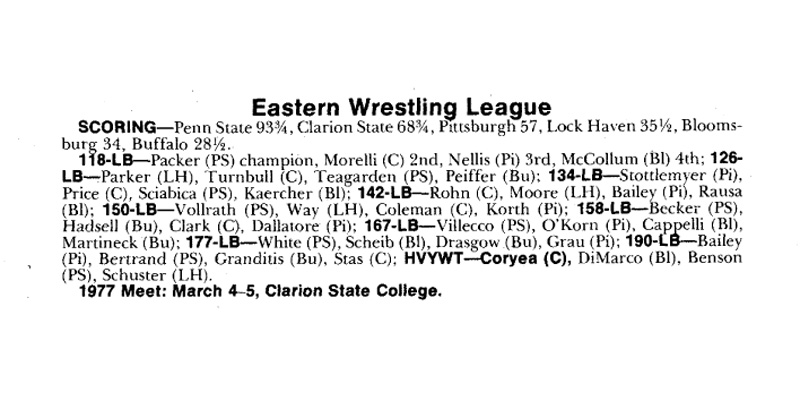 Eastern Wrestling League
Penn State dominated the first annual Eastern Wrestling League tournament, winning the team title by 25 points on the strength of five individual champions. SOURCE: 1977 NCAA Guide. Click for larger image.
Slideshow: Pittsburgh Post-Gazette

Slideshow: DuBois Courier-Express


Slideshow: Connelsville Courier

Varsity

Team Final

Pennsylvania State University [PA] 93.75, Clarion University [PA] 68.75, University of Pittsburgh [PA] 57, Lock Haven University [PA] 35.5, Bloomsburg University [PA] 34, University at Buffalo 28.5

Outstanding Wrestler Award - Chuck Coryea (CU)

Championship Final (1st)


Consolation Final (3rd)



IF YOU HAVE ANY ADDITIONAL PHOTOS OR DOCUMENTATION FROM THIS EVENT, CONTACT INFO@ARMDRAG.COM.

Comments (1st Annual EWL Championships)