Amherst vs. NYS School for the Blind
March 21, 1941 @ Amherst High School (Buffalo, New York)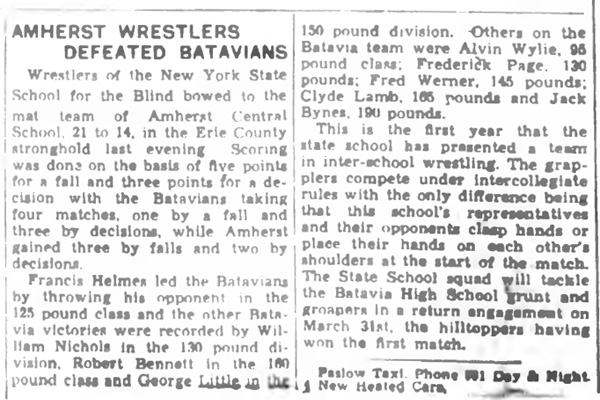 Amherst Wrestlers Defeated Batavians
Wrestlers of the New York State School for the Blind bowed to the mat team of Amherst Central School, 21 to 14, in the Erie County stronghold last evening. Scoring was done on the basis of five points for a fall and three points for a decision with the Batavians taking four matches, one by a fall and three by decisions, while Amherst gained three by falls and two by decisions. SOURCE: Batavia Daily News, Saturday, March 22, 1941.
Varsity
Amherst [NY] 21, NYS School for the Blind [NY] 14
IF YOU HAVE ANY ADDITIONAL PHOTOS OR DOCUMENTATION FROM THIS EVENT, CONTACT INFO@ARMDRAG.COM.

Comments (Amherst vs. NYS School for the Blind)