Garden State Athletic Conference Wrestling Championships
February 19, 1972 @ Ocean County College (Toms River, New Jersey)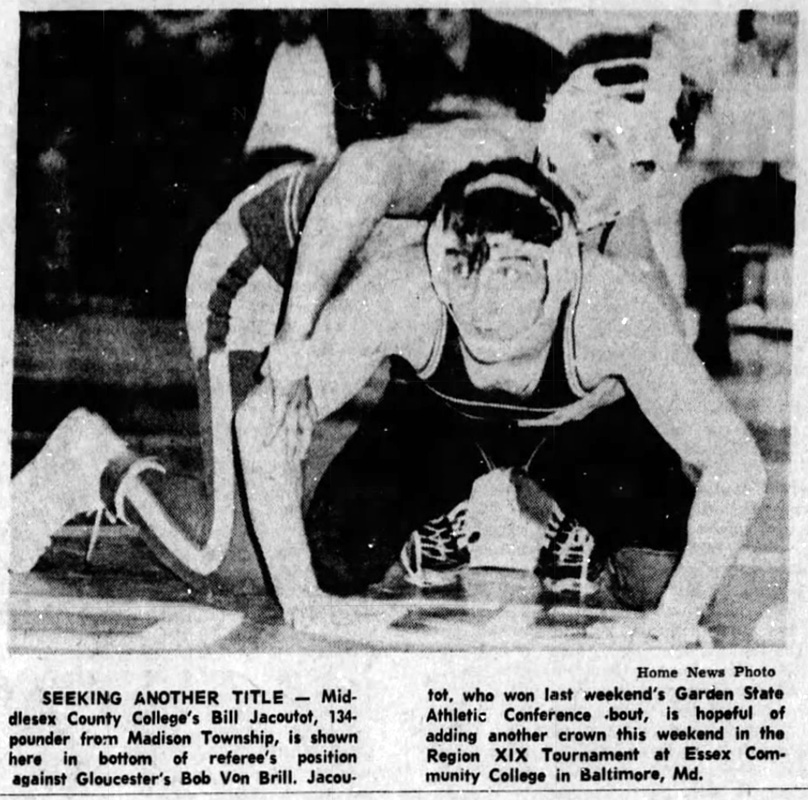 Seeking Another Title
Middlesex County College's Bill Jacoutot, 134-pounder from Madison Township, is shown here in bottom position against Gloucester's Bob VanBrill. Jacoutot, who won last weened's Garden State Athletic Conference bout, is hopeful of adding another crown this weekend in the Region XIX Tournament at Essex Community College in Baltimore, Md. SOURCE: The Central New Jersey Home News, February 24, 1972. Click for larger image.

Varsity

Team Final

Gloucester County College [NJ] 64.5, Middlesex County College [NJ] 52.5, Camden County College [NJ] 47, Atlantic Community College [NJ] 40.5, Ocean County College [NJ] 25, County College of Morris [NJ] 23, Cumberland County College [NJ] 11, Essex County College [NJ] 11

Outstanding Wrestler Award - Jim Young (MCC)

Championship Final (1st)



IF YOU HAVE ANY ADDITIONAL PHOTOS OR DOCUMENTATION FROM THIS EVENT, CONTACT INFO@ARMDRAG.COM.

Comments (Garden State Athletic Conference Wrestling Championships)