Mynderse vs. Webster
January 17, 1961 @ Penn Yan Elementary School (Penn Yan, New York)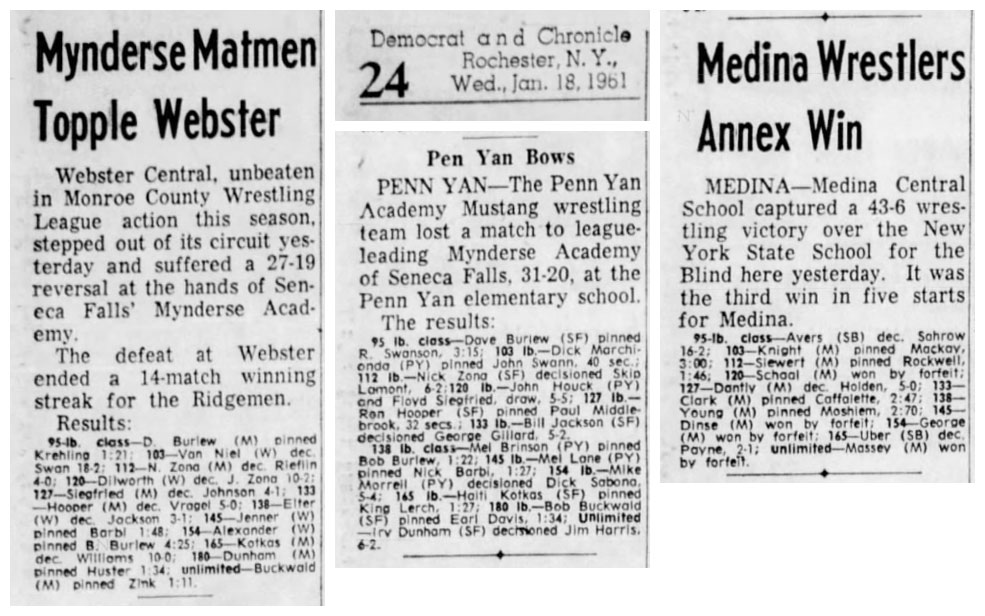 Mynderse Matmen Topple Webster
Webster Central, unbeaten in Monroe County Wrestling League actiomn this season, stepped out of its circuit yesterday and suffered a 27-19 reversal at the hands of Seneca Falls' Mynderse Academy. SOURCE: Rochester Democrat and Chronicle, Wednesday, January 18, 1961. Reproduced by armdrag.com with permission. Click for larger image.
Varsity | Non-League
Mynderse [NY] 27, Webster [NY] 19
IF YOU HAVE ANY ADDITIONAL PHOTOS OR DOCUMENTATION FROM THIS EVENT, CONTACT INFO@ARMDRAG.COM.

Comments (Mynderse vs. Webster)