1968-1969 Marion Black Knights
Head Coach: Stephen Habecker
JV Coach: David Reynolds

Powered by matburn®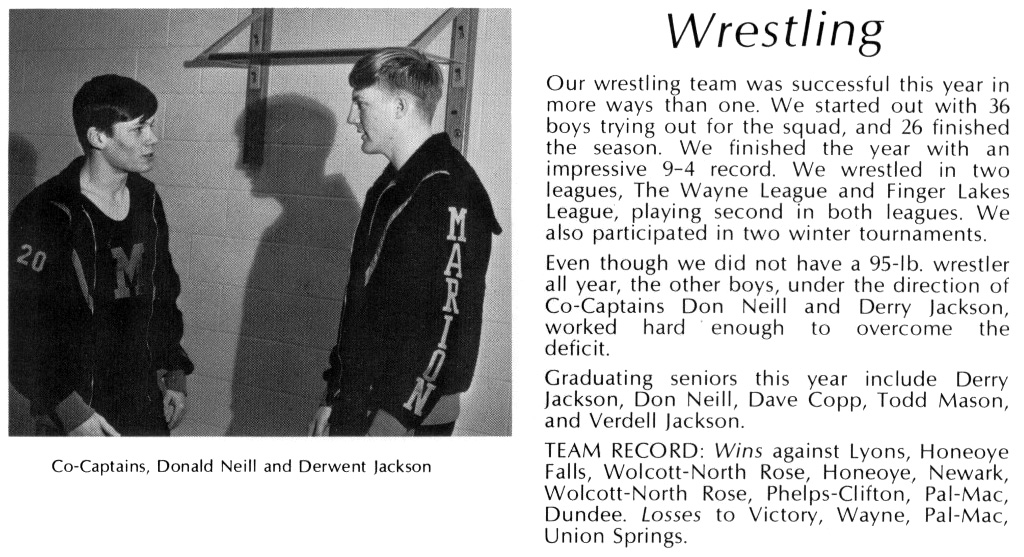 1968-1969 Marion Black Knights
WRESTLING. Our wrestling team was successful this year in more ways than one. We started out with 36 boys trying out for the squad, and 26 finished the season. We finished the year with an impressive 9-4 record. We wrestled in two leagues, the Wayne League and Finger Lakes League, placing second in both. We also participated in two winter tournaments. SOURCE: 1969 Noiram. Click for larger image.


1968-1969 Black Knights Events
1968-1969 Black Knights Roster
IF YOU HAVE ANY ADDITIONAL PHOTOS OR DOCUMENTATION FROM THIS TEAM, CONTACT INFO@ARMDRAG.COM.
Comments (1968-1969 Marion Black Knights)