1958-1959 Salamanca Warriors
| | |
| --- | --- |
| Head Coach: Joe Sanfilippo | Powered by matburn® |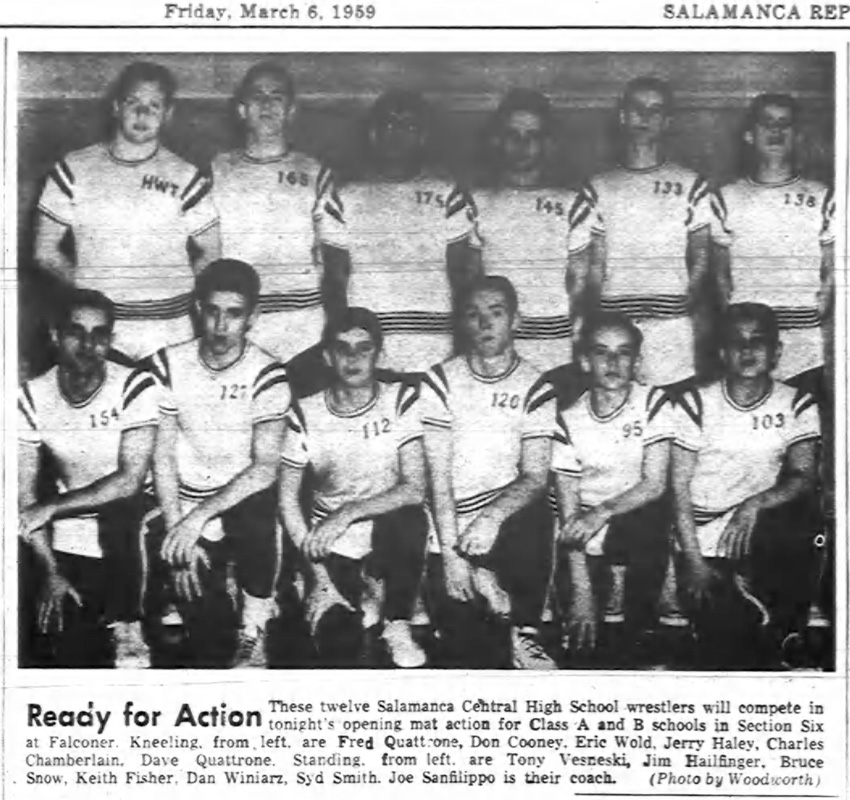 Ready for Action
These twelve Salamanca Central High wrestlers will compete in tonight's opening mat action for Class A and B schools in Section Six at Falconer. Kneeling, from left, are Fred Quattrone, Don Cooney, Eric Wold, Jerry Haley, Charles Chamberlain, Dave Quattrone. Standing, from left, are Tony Vesneski, Jim Hailfinger, Bruce Snow, Keith Fisher, Dan Winiarz, Syd Smith. Joe Sanfilippo in their coach. SOURCE: Salamanca Republican-Press, Friday, March 6, 1959. Click for larger image.
1958-1959 Warriors Events
1958-1959 Warriors Roster
IF YOU HAVE ANY ADDITIONAL PHOTOS OR DOCUMENTATION FROM THIS TEAM, CONTACT INFO@ARMDRAG.COM.
Comments (1958-1959 Salamanca Warriors)