1st Annual RIT Wrestling Invitational
December 2, 1966 - December 3, 1966 @ Rochester Institute of Technology (Rochester, New York)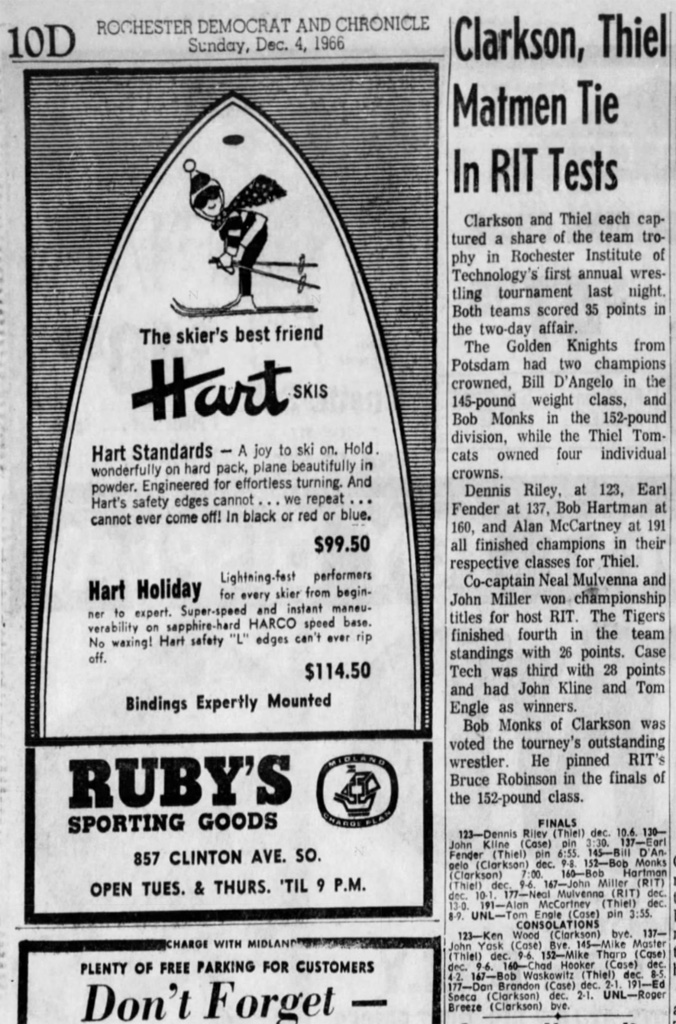 Clarkson, Thiel Matmen Tie In RIT Tests
Clarkson and Thiel each captured a share of the team trophy in Rochester Institute of Technology's first annual wrestling tournament last night. SOURCE: Rochester Democrat and Chronicle, Sunday, December 4, 1966. Reproduced by armdrag.com with permission. Click for larger image.



Varsity

Team Final

Clarkson College of Technology 35, Thiel College [PA] 30, Case Institute of Technology [OH] 28, Rochester Institute of Technology 26

Outstanding Wrestler Award - Bob Monks (CCT)

Championship Final (1st)


Consolation Final (3rd)



IF YOU HAVE ANY ADDITIONAL PHOTOS OR DOCUMENTATION FROM THIS EVENT, CONTACT INFO@ARMDRAG.COM.

Comments (1st Annual RIT Wrestling Invitational)