Watkins Glen Invitational Wrestling Tournament
January 25, 1991 - January 26, 1991 @ Watkins Glen High School (Watkins Glen, New York)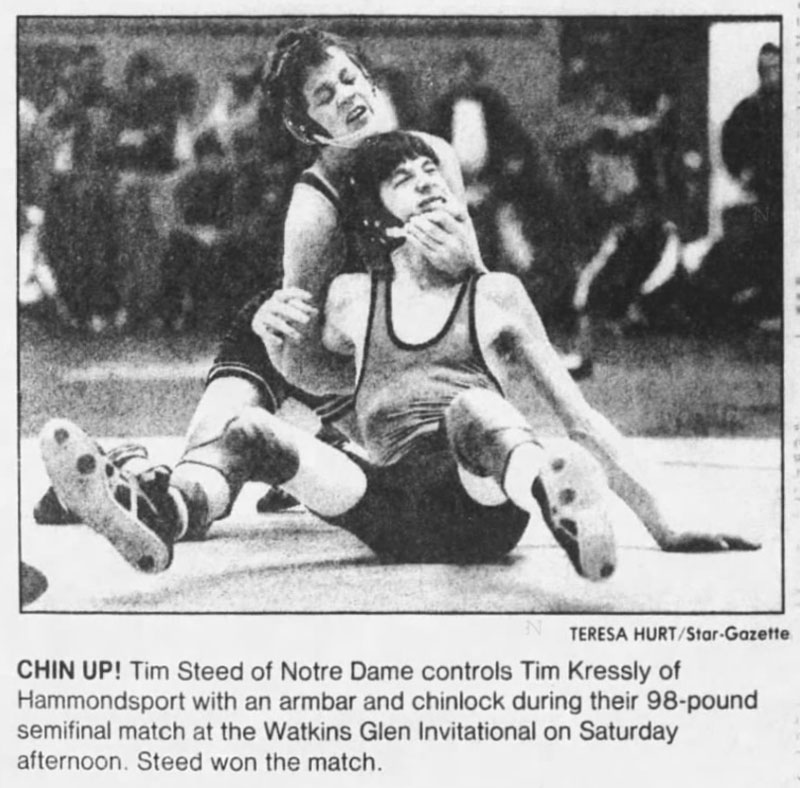 Chin Up!
Tim Steed of Notre Dame controls Tim Kressly of Hammondsport with an armbar and chinlock during their 98-pound semifinal match at the Watkins Glen Invitational on Saturday afternoon. Steed won the match. Elmira Start-Gazette, Sunday, January 27, 1991. Click for larger image.

Varsity

Team Final

Athens [PA] 152, Newark 147, Maine-Endwell 135, Watkins Glen 124, Canandaigua 101, Elmira Southside 98.5, Bishop Kearney 93, Corning 92, South Seneca 89, Whitney Point 86.5, McQuaid Jesuit 85, Wellsville 81.5, Le Roy 74.5, Elmira Notre Dame 72, Waterloo 71.5, Bath Haverling 64, Horseheads 60, Marietta [GA] 58, North Rose-Wolcott 48, Tioga 45, Trumansburg 41, Hammondsport 27, Geneva 17, Avoca 16.5

Outstanding Wrestler Award - Matt Marciniak (WG)

Championship Final (1st)


Consolation Final (3rd)


Consolation Final (5th)



IF YOU HAVE ANY ADDITIONAL PHOTOS OR DOCUMENTATION FROM THIS EVENT, CONTACT INFO@ARMDRAG.COM.

Comments (Watkins Glen Invitational Wrestling Tournament)