19th Annual Batavia Christmas Wrestling Tournament
December 19, 1992 @ Batavia High School (Batavia, New York)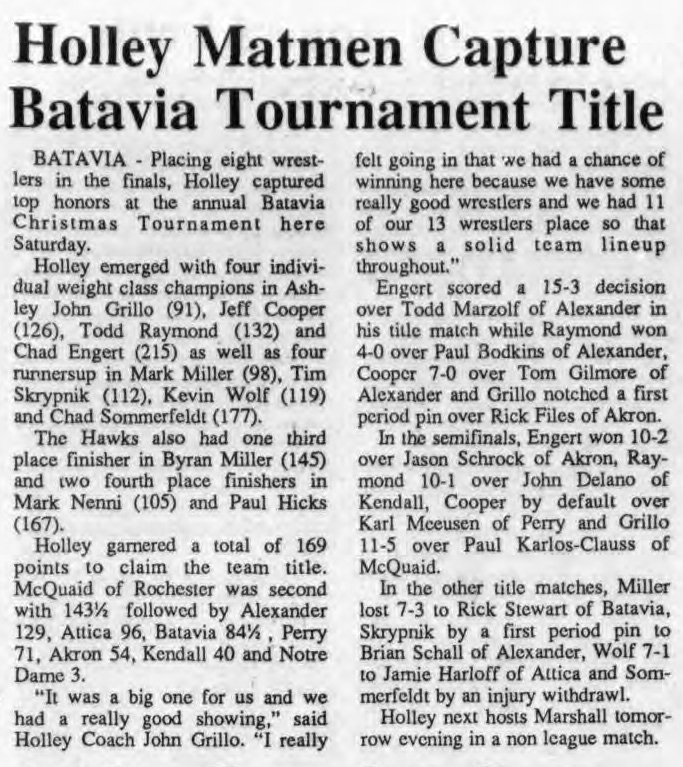 Holley Matmen Capture Batavia Tournament Title
Placing eight wrestlers in the finals, Holley captured top honors at the annual Batavia Christmas Tournament. SOURCE: The Medina Journal-Register, December 22, 1992. Click for larger image.
Varsity

Team Final

Holley 169, McQuaid Jesuit 143.5, Alexander 129, Attica 96, Batavia 84.5, Perry 71, Akron 54, Kendall 40, Batavia Notre Dame 3

Place Winners

105 4. Mark Nenni (Holley)
167 4. Paul Hicks (Holley)
177 2. Chad Sommerfeldt (Holley)

Championship Final (1st)


Consolation Final (3rd)



IF YOU HAVE ANY ADDITIONAL PHOTOS OR DOCUMENTATION FROM THIS EVENT, CONTACT INFO@ARMDRAG.COM.

Comments (19th Annual Batavia Christmas Wrestling Tournament)