10th Annual Baldwinsville Holiday Wrestling Classic
December 29, 1978 @ Charles W. Baker High School (Baldwinsville, New York)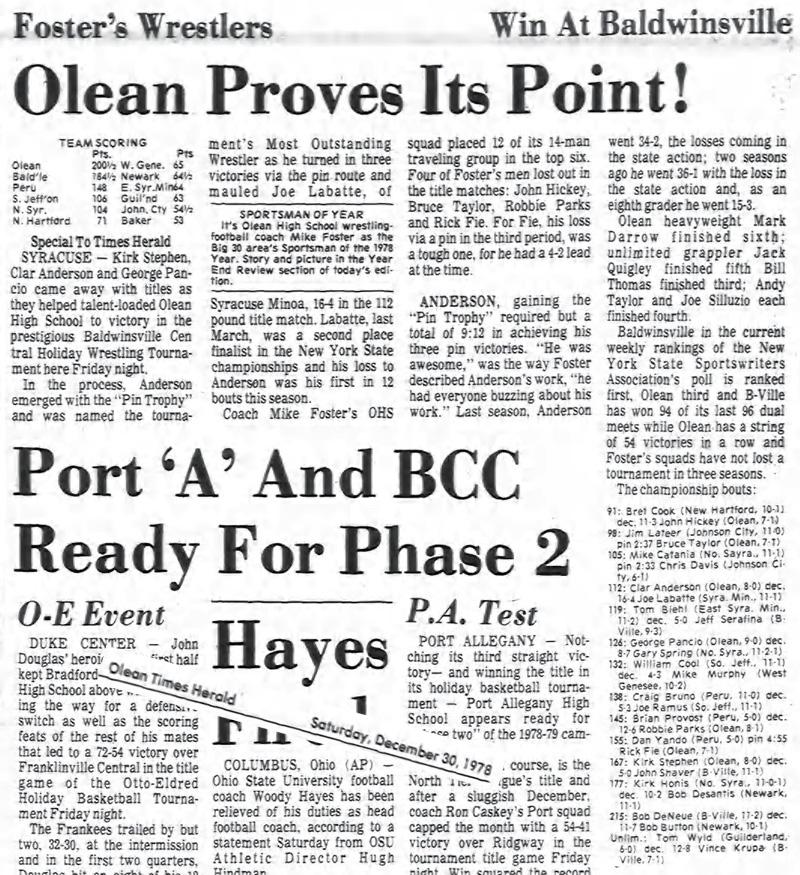 Olean Proves Its Point!
Kirk Stephen, Clar Anderson and George Pancio came away with titles as they helped talent-loaded Olean High School to victory in the prestigious Baldwinsville Central Holiday Wrestling Tournament. SOURCE: Olean Times Herald, December 30, 1978. Click for larger image.

Varsity

Team Final

Olean 196.5, Baldwinsville 184.5, Peru 148, North Syracuse 104, South Jefferson 104, New Hartford 71, West Genesee 65, Newark 64.5, East Syracuse-Minoa 64, Guilderland 63, Johnson City 54.5, Baldwinsville (B Team) 53

Outstanding Wrestler Award - Clar Anderson (Olean)
Fastest Pin Award - Bob Button (Newark)
Aggregate Pin Award - Clar Anderson (Olean)

Place Winners

119 4. Andy Taylor (Olean)
132 4. Joe Silluzio (Olean)
215 6. Mark Darrow (Olean)

Championship Final (1st)


Consolation Final (3rd)


Consolation Final (5th)



IF YOU HAVE ANY ADDITIONAL PHOTOS OR DOCUMENTATION FROM THIS EVENT, CONTACT INFO@ARMDRAG.COM.

Comments (10th Annual Baldwinsville Holiday Wrestling Classic)