11th Annual Baldwinsville Holiday Wrestling Classic
December 29, 1979 @ Charles W. Baker High School (Baldwinsville, New York)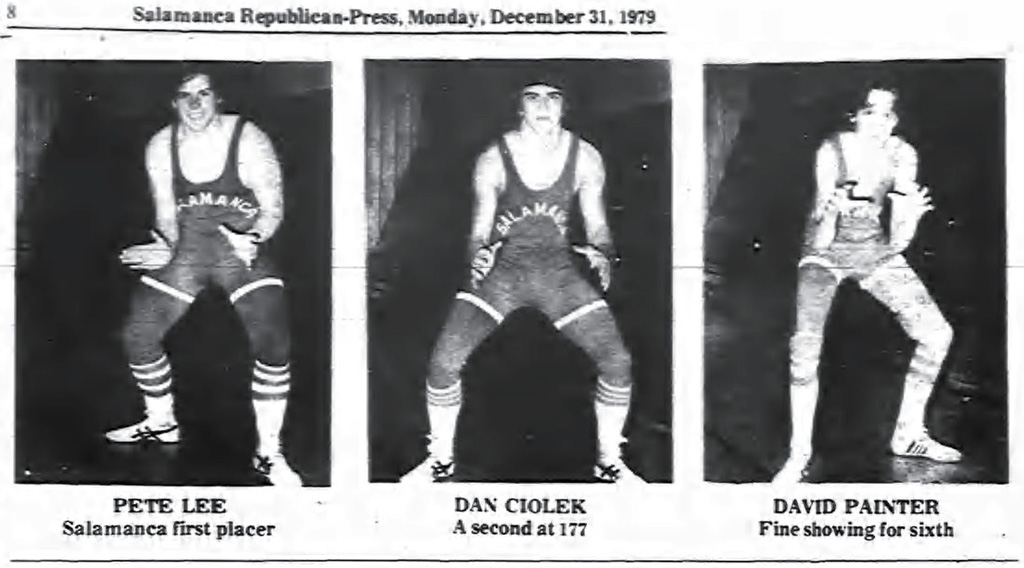 Warriors a strong fourth in Baldwinsville tourney
Paced by a first place finish from Pete Lee, a second from Dan Ciolek, and third places from Mike LoPresto and George Bryant, the Salamanca High School wrestling team came up with a fourth place finish in the prestigious Baldwinsville Holiday Wrestling Classic. SOURCE: Salamanca Republican-Press, December 31, 1979. Click for larger image.

Varsity

Team Final

Baldwinsville 250, Newark 136, Johnson City 134, Salamanca 129, New Hartford 108, Peru 92, West Genesee 73, East Syracuse-Minoa 65, South Jefferson 58.5, Guilderland 57

Place Winners

105 6. Dave Painter (Salamanca)
112 6. David Zariczny (Salamanca)
119 2. Mike Block (Newark)
126 2. Mike Lemmon (Newark)
132 4. Jeff Early (Salamanca)
138 6. Mike Budzinski (Salamanca)
215 4. Marty Redeye (Salamanca)

Championship Final (1st)


Consolation Final (3rd)


Consolation Final (5th)



IF YOU HAVE ANY ADDITIONAL PHOTOS OR DOCUMENTATION FROM THIS EVENT, CONTACT INFO@ARMDRAG.COM.

Comments (11th Annual Baldwinsville Holiday Wrestling Classic)