Canandaigua vs. Mynderse
December 14, 1968 @ Canandaigua Academy (Canandaigua, New York)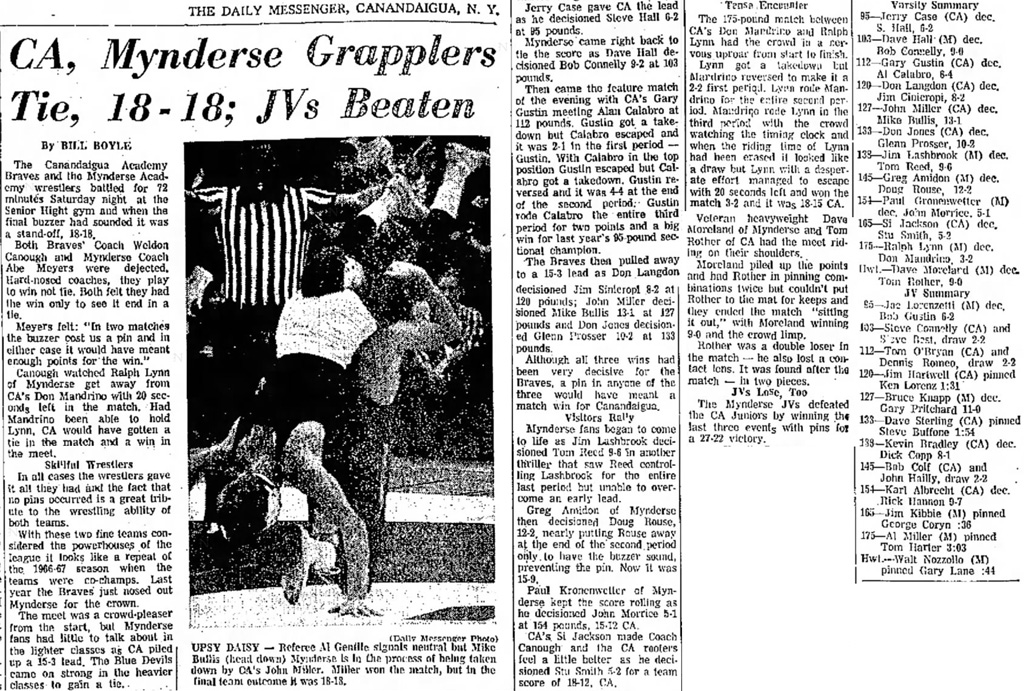 CA, Mynderse Grapplers Tie, 18-18; JVs Beaten
The Canandaigua Academy Braves and the Mynderse Academy wrestlers battled for 72 minutes Saturday night at the Senior High gym and when the final buzzer had sounded it was a stand-off, 18-18. Both Braves' Coach Weldon Canough and Mynderse Coach Abe Meyers were dejected. Hard-nosed coaches, they play to win not to tie. Both felt they had the win only to see it end in a tie. SOURCE: Canandaigua Daily Messenger, Monday, December 16, 1968. Click for larger image.

Varsity
Canandaigua [NY] 18, Mynderse [NY] 18
IF YOU HAVE ANY ADDITIONAL PHOTOS OR DOCUMENTATION FROM THIS EVENT, CONTACT INFO@ARMDRAG.COM.

Comments (Canandaigua vs. Mynderse)