Greece Athena Christmas Wrestling Tournament
December 18, 1976 @ Greece Athena High School (Rochester, New York)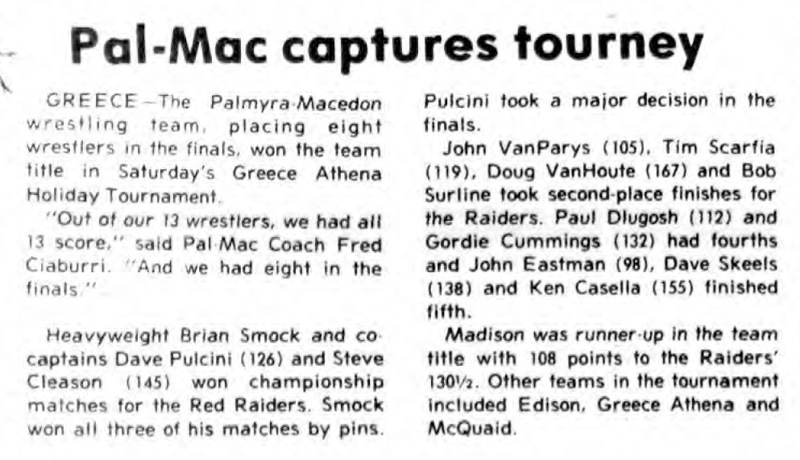 Pal-Mac captures tourney
The Palmyra-Macedon wrestling team, placing eight wrestlers in the finals, won the team title in Saturday's Greece Athena Holiday Tournament. SOURCE: The Geneva Times, Monday, December 21, 1976. Click for larger image.
Varsity

Team Final

Palmyra-Macedon 130.5, McQuaid Jesuit 108, Madison (Rochester) 97.5, Greece Athena 79, Edison Tech (Rochester) 63.5, Charlotte (Rochester) 49.5, Cardinal Mooney 31.5, Aquinas 28.5

Place Winners

112 4. Paul Dlugosh (PM)
6. Eric Hoecker (GA)
119 4. Paul Mousso (GA)
132 4. Gordie Cummings (PM)
215 4. Rick Prosser (GA)

Championship Final (1st)


Consolation Final (3rd)


Consolation Final (5th)



IF YOU HAVE ANY ADDITIONAL PHOTOS OR DOCUMENTATION FROM THIS EVENT, CONTACT INFO@ARMDRAG.COM.

Comments (Greece Athena Christmas Wrestling Tournament)