3rd Annual Churchville-Chili Holiday Wrestling Tournament
December 21, 1974 @ Churchville-Chili High School (Churchville, New York)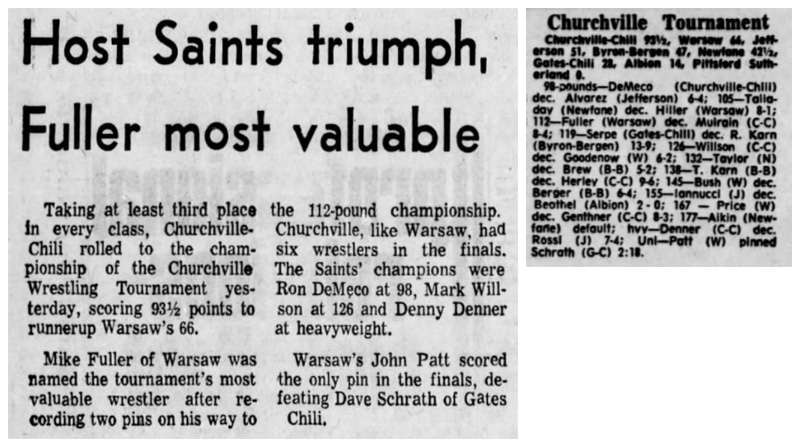 Host Saints triumph, Fuller most valuable
Taking at least third place in every class, Churchville-Chili rolled to the championship of the Churchville Wrestling Tournament yesterday, scoring 93.5 points to runnerup Warsaw's 66. SOURCE: Rochester Democrat and Chronicle, Sunday, December 22, 1974. Reproduced by armdrag.com with permission. Click for larger image.
Varsity

Team Final

Churchville-Chili 98.5, Warsaw 66, Jefferson (Rochester) 51, Byron-Bergen 47, Newfane 42.5, Gates Chili 28, Albion 14, Pittsford Sutherland 0

Outstanding Wrestler Award - Mike Fuller (Warsaw)

Championship Final (1st)



IF YOU HAVE ANY ADDITIONAL PHOTOS OR DOCUMENTATION FROM THIS EVENT, CONTACT INFO@ARMDRAG.COM.

Comments (3rd Annual Churchville-Chili Holiday Wrestling Tournament)