17th Annual Monsignor Martin All-Catholic Wrestling Championships
February 19, 1983 @ DeSales Catholic School (Lockport, New York)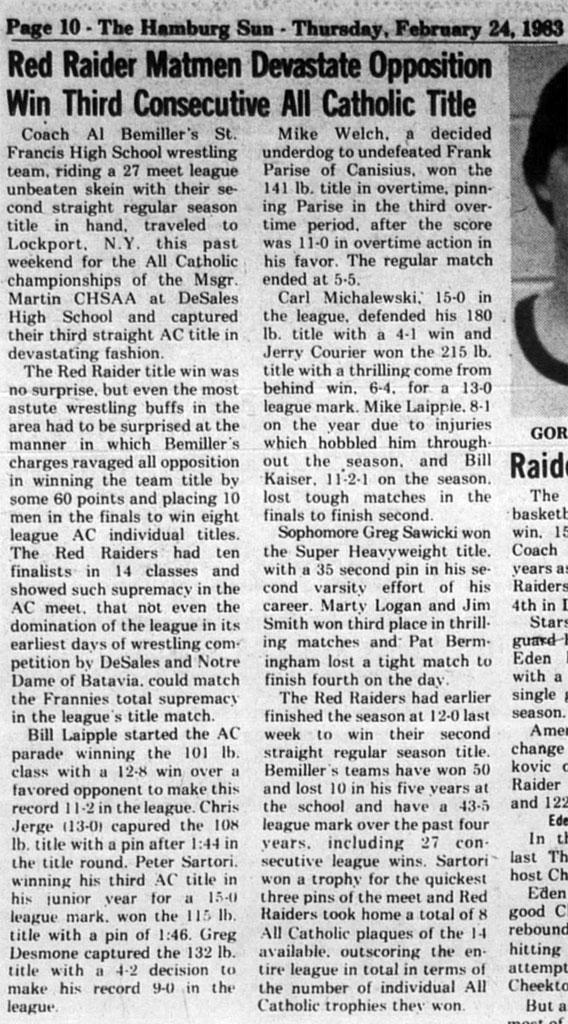 Red Raider Matmen Devastate Opposition
Win Third Consecutive All-Catholic Title. SOURCE: The Hamburg Sun,. February 24, 1983. Click for larger image.
Varsity

Teams

Bishop Turner, Canisius, Cardinal O'Hara, Lockport DeSales, St. Francis, St. Joseph's, St. Mary's of Lancaster

Outstanding Wrestler Award - Jon Lauria (Canisius)

Place Winners

126 4. Pat Bermingham (SF)

Championship Final (1st)



IF YOU HAVE ANY ADDITIONAL PHOTOS OR DOCUMENTATION FROM THIS EVENT, CONTACT INFO@ARMDRAG.COM.

Comments (17th Annual Monsignor Martin All-Catholic Wrestling Championships)