19th Annual Monsignor Martin All-Catholic Wrestling Championships
February 16, 1985 @ St. Francis High School (Athol Springs, New York)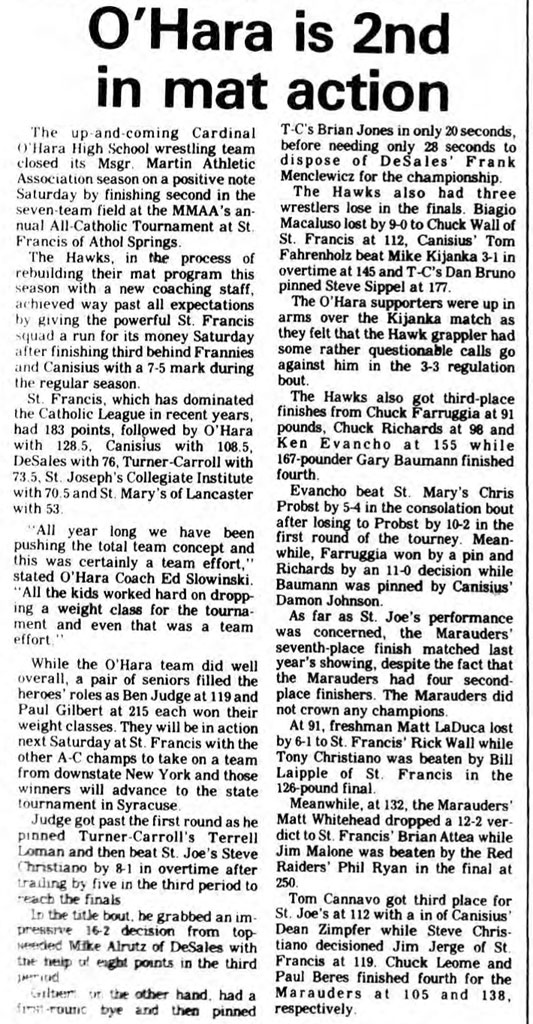 O'Hara is 2nd in mat action
The up-and-coming Cardinal O'Hara High School wrestling team closed its Msgr. Martin Athletic Association season on a positive note. SOURCE: Tonawanda NEWS, Monday, February 18, 1985. Click for larger image.
Varsity

Team Final

St. Francis 183, Cardinal O'Hara 128.5, Canisius 108.5, Lockport DeSales 76, Turner/Carroll 73.5, St. Joseph's 70.5, St. Mary's of Lancaster 53

Place Winners

105 4. Chuck Leome (SJ)
138 4. Paul Beres (SJ)

Championship Final (1st)


Consolation Final (3rd)



IF YOU HAVE ANY ADDITIONAL PHOTOS OR DOCUMENTATION FROM THIS EVENT, CONTACT INFO@ARMDRAG.COM.

Comments (19th Annual Monsignor Martin All-Catholic Wrestling Championships)