1st Annual Lyndonville Holiday Wrestling Tournament
December 17, 1977 @ Lyndonville Central School (Lyndonville, New York)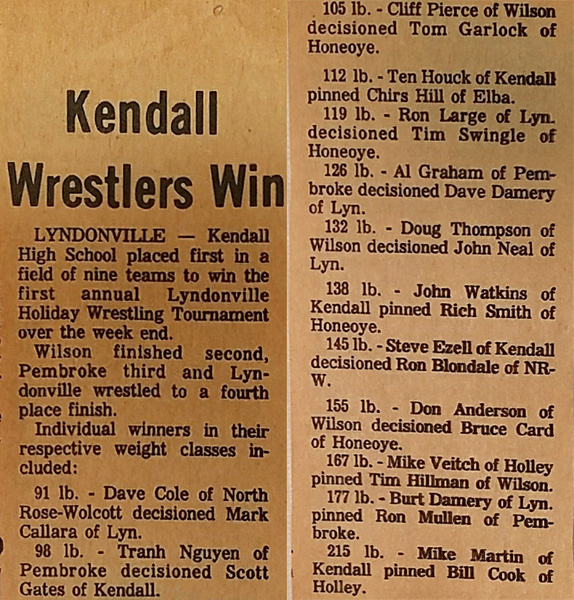 Kendall Wrestlers Win
Kendall High School placed first in a field of nine teams to win the first annual Lyndonville Holiday Wrestling Tournament over the week end. SOURCE: Medina Journal-Register, Monday, December 19, 1977. Provided by Jon Neal and Joe Suhr.


Varsity

Team Final

Kendall 149, Wilson 148.5, Pembroke 107.5, Lyndonville 95.5, Honeoye 92.5, Holley 66, North Rose-Wolcott 41.5, Elba 40, Barker 21

Championship Final (1st)



IF YOU HAVE ANY ADDITIONAL PHOTOS OR DOCUMENTATION FROM THIS EVENT, CONTACT INFO@ARMDRAG.COM.

Comments (1st Annual Lyndonville Holiday Wrestling Tournament)