4th Annual New York State Catholic Wrestling Championships
March 4, 1967 @ Bishop Kearney High School (Rochester, New York)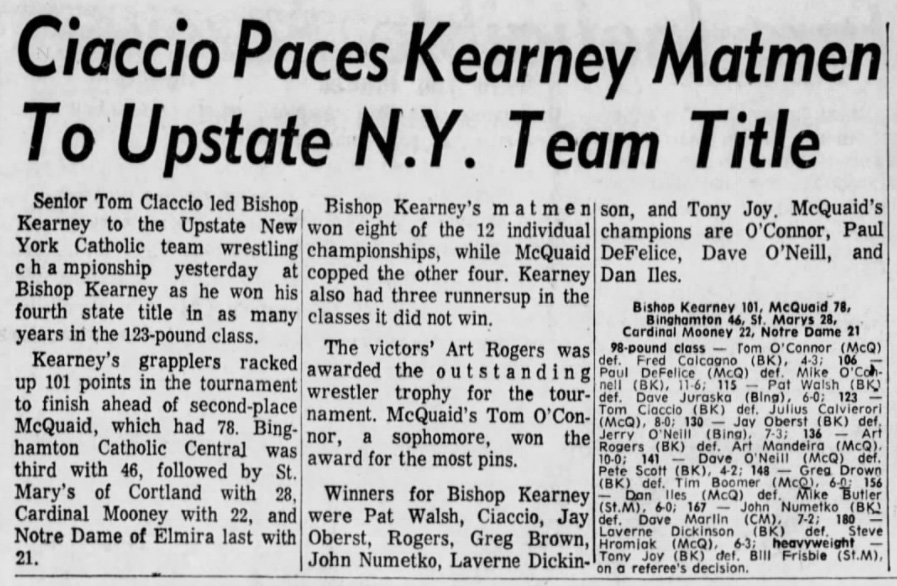 Ciaccio Paces Kearney Matmen To Upstate N.Y. Team Title
Senior Tom Ciaccio led Bishop Kearney to the Upstate New York Catholic team wrestling championship yesterday at Bishop Kearney as he won his fourth state title in as many years in the 123-pound class. SOURCE: Rochester Democrat and Chronicle, Sunday, March 5, 1967. Reproduced by armdrag.com with permission. Click for larger image.
Slideshow: Cortland Standard

Varsity

Team Final

Bishop Kearney 101, McQuaid Jesuit 78, Binghamton Catholic 46, St. Mary's of Cortland 28, Cardinal Mooney 22, Elmira Notre Dame 21

Aggregate Pin Award - Tom O'Connor (MQJ)
Outstanding Wrestler Award - Art Rogers (BK)

Championship Final (1st)



IF YOU HAVE ANY ADDITIONAL PHOTOS OR DOCUMENTATION FROM THIS EVENT, CONTACT INFO@ARMDRAG.COM.

Comments (4th Annual New York State Catholic Wrestling Championships)