Genesee Region League Wrestling Championships
February 8, 1975 @ Genesee Community College (Batavia, New York)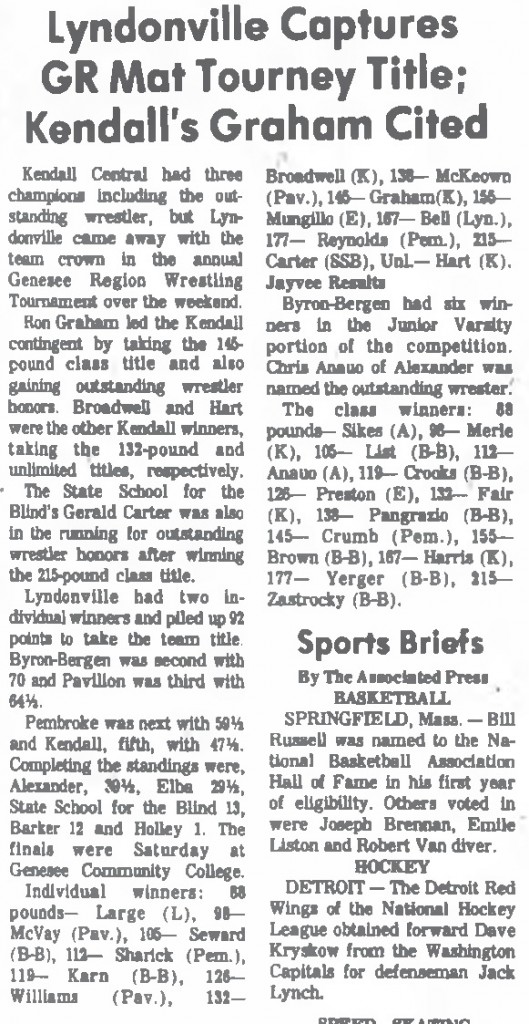 Lyndonville Captures GR Mat Tourney Title; Kendalls Graham Cited
Kendall Central had three champions including the outstanding wrestlers, but Lyndonville came away with the team crown in the annual Cenesee Region Wrestling Tournament over the weekend. SOURCE: The Batavia Daily News, Monday, February 10, 1975. Click for larger image.

Varsity

Team Final

Lyndonville 92, Byron-Bergen 70, Pavilion 64.5, Pembroke 59.5, Kendall 47.5, Alexander 39.5, Elba 29.5, NYS School for the Blind 13, Barker 12, Holley 1

Outstanding Wrestler Award - Ron Graham (Kendall)

Place Winners

145 4. Paul Suhr (Lyndonville)
177 4. Keith Stammler (Lyndonville)

Championship Final (1st)


Consolation Final (3rd)



IF YOU HAVE ANY ADDITIONAL PHOTOS OR DOCUMENTATION FROM THIS EVENT, CONTACT INFO@ARMDRAG.COM.

Comments (Genesee Region League Wrestling Championships)