Genesee Region League Wrestling Championships
February 12, 2005 @ L.A. Webber Middle-High School (Lyndonville, New York)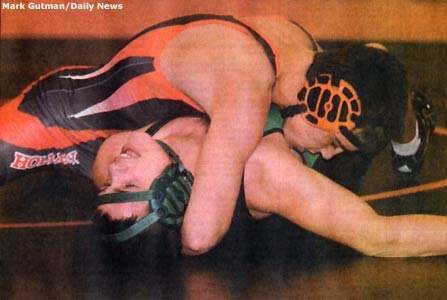 Holley Pin
HOLLEY PIN: Holley's Matt Denning (top) pins Pembroke's Mike McKenrick in 3:21 in the 152-pound final in Saturday's Genesee Region League Wrestling Tournament at Lyndonville. SOURCE: The Daily News, Monday, February 14, 2005. Reproduced by armdrag.com with permission.
Varsity

Team Final

Holley 241, Attica 152, Pembroke 148.5, Byron-Bergen 138.5, Kendall 71.5, Alexander 44, Lyndonville 43, Batavia Notre Dame 29.5, Oakfield-Alabama 28

Outstanding Wrestler Award (Lower Weights) - Sam Damthongmivanh (Pembroke)
Outstanding Wrestler Award (Upper Weights) - Wes Snyder (Kendall)

Championship Final (1st)


Consolation Final (3rd)



IF YOU HAVE ANY ADDITIONAL PHOTOS OR DOCUMENTATION FROM THIS EVENT, CONTACT INFO@ARMDRAG.COM.

Comments (Genesee Region League Wrestling Championships)