Genesee-Orleans League Wrestling Championships
February 17, 1968 @ Lyndonville Central School (Lyndonville, New York)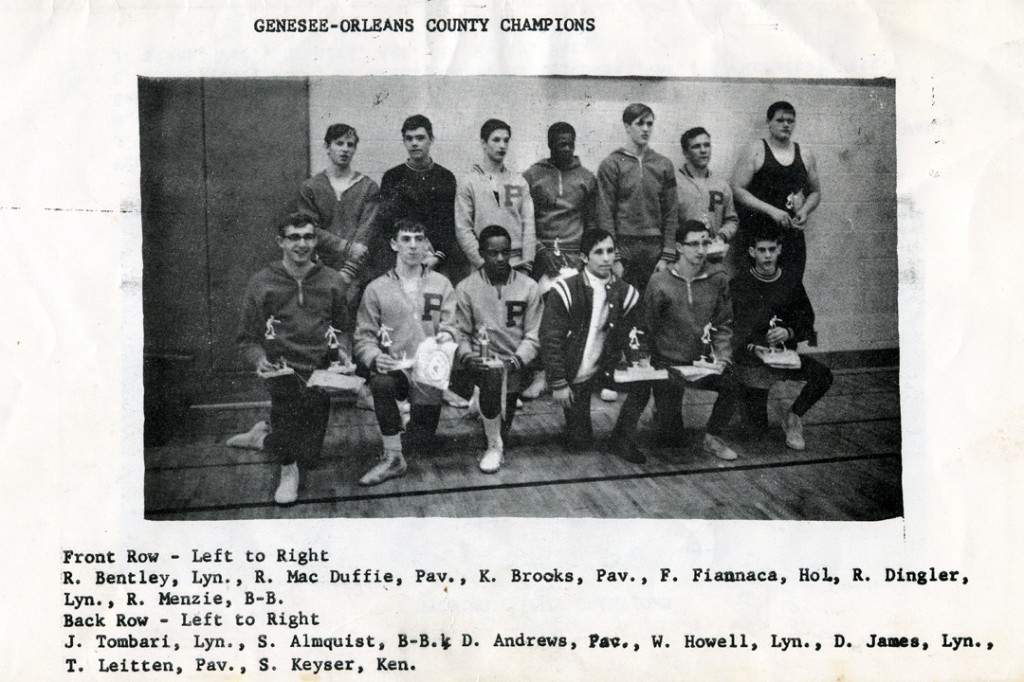 Genesee-Orleans League Wrestling Tournament
CHAMPIONS. FRONT ROW: Russ Bently (Lyndonville), Rick MacDuffy (Pavilion), Kevin Brooks (Pavilion), Francis Fiannaca (Holley), Ron Dingler (Lyndonville), Rick Menzie (Byron-Bergen). BACK ROW: Jim Tombari (Lyndonville), Steve Almquist (Byron-Bergen), Dave Andrews (Pavilion), Willie Howell (Lyndonville), Derwood James (Lyndonville), Tom Leitten (Pavilion), Steve Keyser (Kendall). SOURCE: 1968 Section V Class B Quarterfinals (G-O vs. Wyoming) event program. Click for larger image.


Varsity | Winners advance to Section V Class B Quaterfinals vs. Wyoming County

Teams

Barker, Byron-Bergen, Holley, Kendall, Le Roy, Lyndonville, Pavilion, Pembroke

Outstanding Wrestler Award - Russ Bentley (Lyndonville)

Championship Final (1st)


Consolation Final (3rd)



IF YOU HAVE ANY ADDITIONAL PHOTOS OR DOCUMENTATION FROM THIS EVENT, CONTACT INFO@ARMDRAG.COM.

Comments (Genesee-Orleans League Wrestling Championships)