43rd Annual Akron Holiday Wrestling Tournament
December 30, 2010 @ Akron High School (Akron, New York)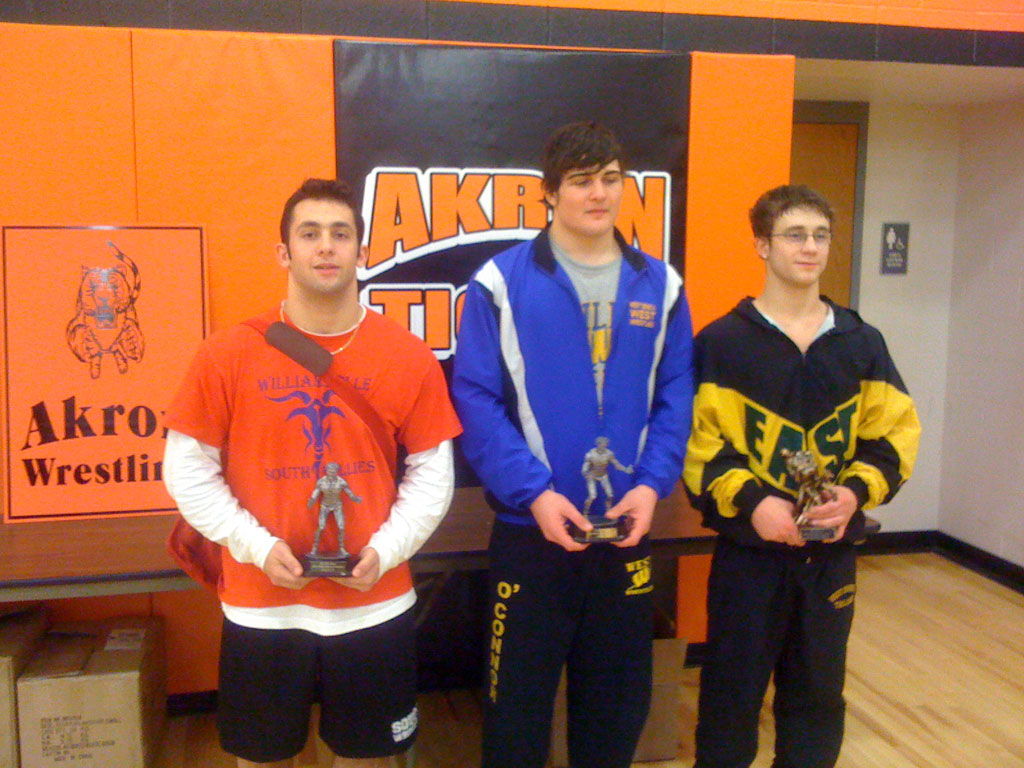 Award Winners
LEFT TO RIGHT: Aggregate Pin Award winner Spencer Biondo (Williamsville South, 189 lbs), Fastest Pin Award winner Josh O'Connor (West Seneca West, 215 lbs), and Outstanding Wrestler Award winner Dale Wasielewski (West Seneca East, 140 lbs). Photo courtesy Joey Suhr. Click for larger image.

Varsity

Team Final

West Seneca East 146, Kenmore East 142, Albion 136, Williamsville South 133, West Seneca West 105, Greece Olympia 79.5, Barker 61, Akron 43, Niagara Catholic 43, St. Mary's of Lancaster 35, Clarence 25, Pembroke 20, Canisius 18, Oakfield-Alabama 13

Aggregate Pin Award - Spencer Biondo (WS)
Fastest Pin Award - Josh O'Connor (WSW)
Outstanding Wrestler Award - Dale Wasielewski (WSE)

Championship Final (1st)


Consolation Final (3rd)



IF YOU HAVE ANY ADDITIONAL PHOTOS OR DOCUMENTATION FROM THIS EVENT, CONTACT INFO@ARMDRAG.COM.

Comments (43rd Annual Akron Holiday Wrestling Tournament)