46th Annual Akron Holiday Wrestling Tournament
December 27, 2013 - December 28, 2013 @ Akron High School (Akron, New York)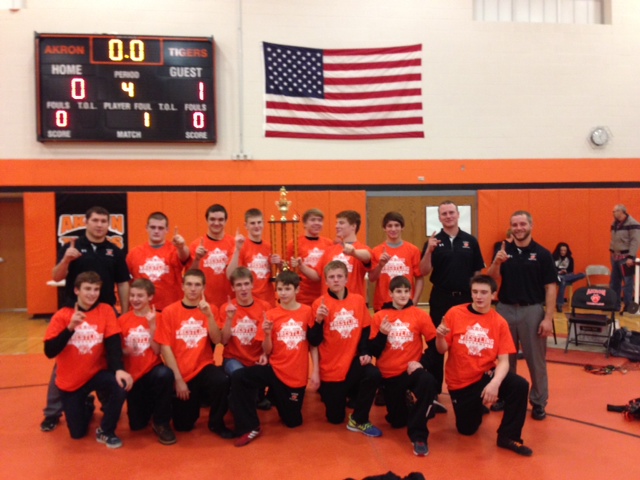 Akron Tigers
The 46th Akron Varsity Holiday Tournament concluded last night with the home team proving to be the top team as the Akron Wrestling team won the tournament by an impressive 20.5 points over ranked teams West Seneca West and Williamsville South. It is the first time since 2003 that the Akron Wrestling team has won it's own tournament. Photo provided by Joey Suhr.
Varsity

Team Final

Akron 170.5, West Seneca West 148, Williamsville South 123, Albany Academy 104, Tonawanda 104, St. Francis 86.5, Le Roy 65, Barker/Royalton-Hartland 57, North Tonawanda 50, Kenmore East 29.5, Depew 26, St. Mary's of Lancaster 14

Championship Final (1st)


Consolation Final (3rd)



IF YOU HAVE ANY ADDITIONAL PHOTOS OR DOCUMENTATION FROM THIS EVENT, CONTACT INFO@ARMDRAG.COM.

Comments (46th Annual Akron Holiday Wrestling Tournament)