15th Annual Batavia Christmas Wrestling Tournament
December 17, 1988 @ Batavia High School (Batavia, New York)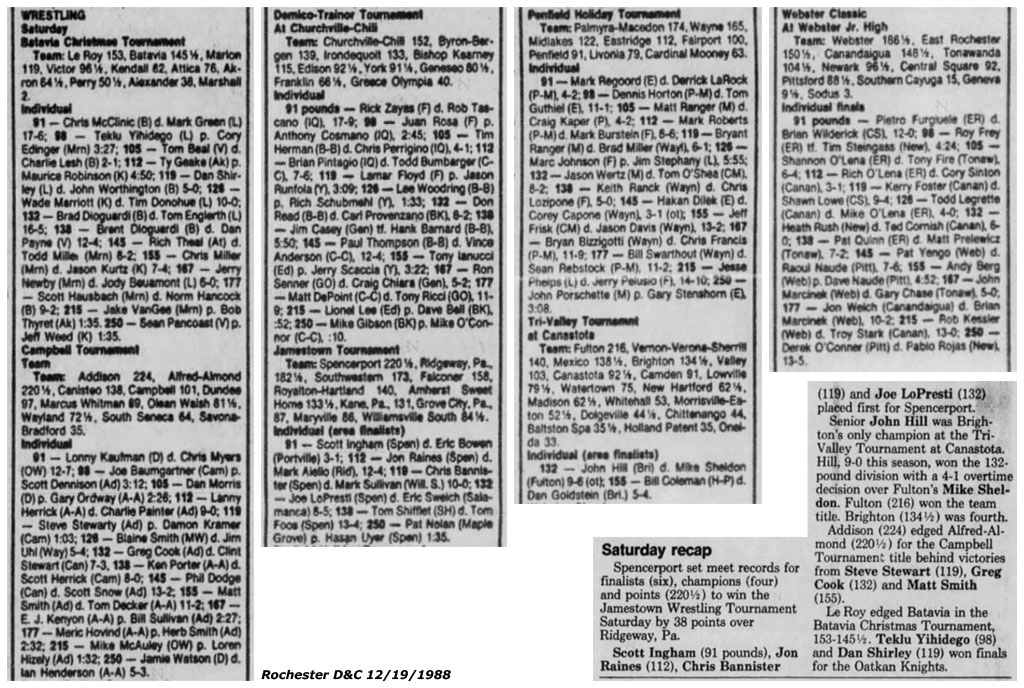 Batavia Christmas Tournament
Le Roy edged Batavia in the Batavia Christmas Tournament, 152-145.5. Teklu Yihidego (98) and Dan Shirley (119) won finals for the Oatkan Knights. SOURCE: Rochester Democrat and Chronicle, December 19, 1988. Reproduced by armdrag.com with permission. Click for larger image.
Varsity

Team Final

Le Roy 153, Batavia 145.5, Marion 119, Victor 96.5, Kendall 82, Attica 76, Akron 64.5, Perry 50.5, Alexander 38.5, Marshall (Rochester) 2

Championship Final (1st)



IF YOU HAVE ANY ADDITIONAL PHOTOS OR DOCUMENTATION FROM THIS EVENT, CONTACT INFO@ARMDRAG.COM.

Comments (15th Annual Batavia Christmas Wrestling Tournament)