21st Annual Batavia Christmas Wrestling Tournament
December 17, 1994 @ Batavia High School (Batavia, New York)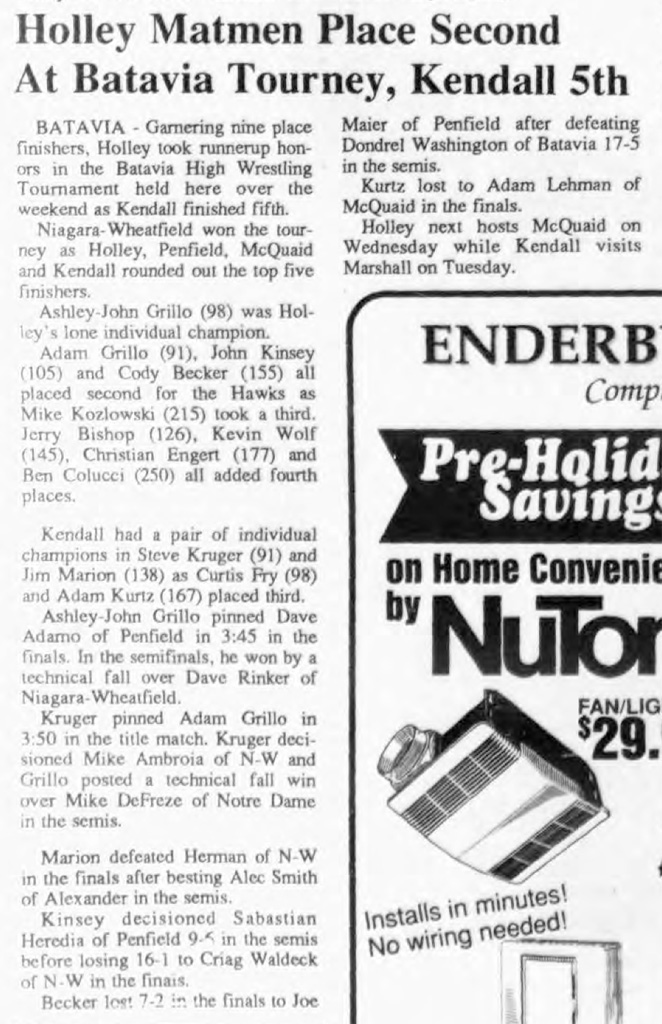 Holley Matmen Place Second at Batavia Tourney, Kendall 5th
Garnering nine place finishers, Holley took runnerup honors in the Batavia High Wrestling Tournament held here over the weekend as Kendall finished fifth. SOURCE: The Medina Journal-Register, December 19, 1994. Click for larger image.
Varsity

Teams

Alexander, Batavia, Batavia Notre Dame, Holley, Kendall, McQuaid Jesuit, Niagara Wheatfield, Penfield

Place Winners

126 4. Jerry Bishop (Holley)
145 4. Kevin Wolf (Holley)
177 4. Christian Engert (Holley)
250 4. Ben Colucci (Holley)

Championship Final (1st)


Consolation Final (3rd)



IF YOU HAVE ANY ADDITIONAL PHOTOS OR DOCUMENTATION FROM THIS EVENT, CONTACT INFO@ARMDRAG.COM.

Comments (21st Annual Batavia Christmas Wrestling Tournament)