30th Annual Niagara-Orleans All-League Wrestling Championships
February 10, 1996 @ Wilson High School (Wilson, New York)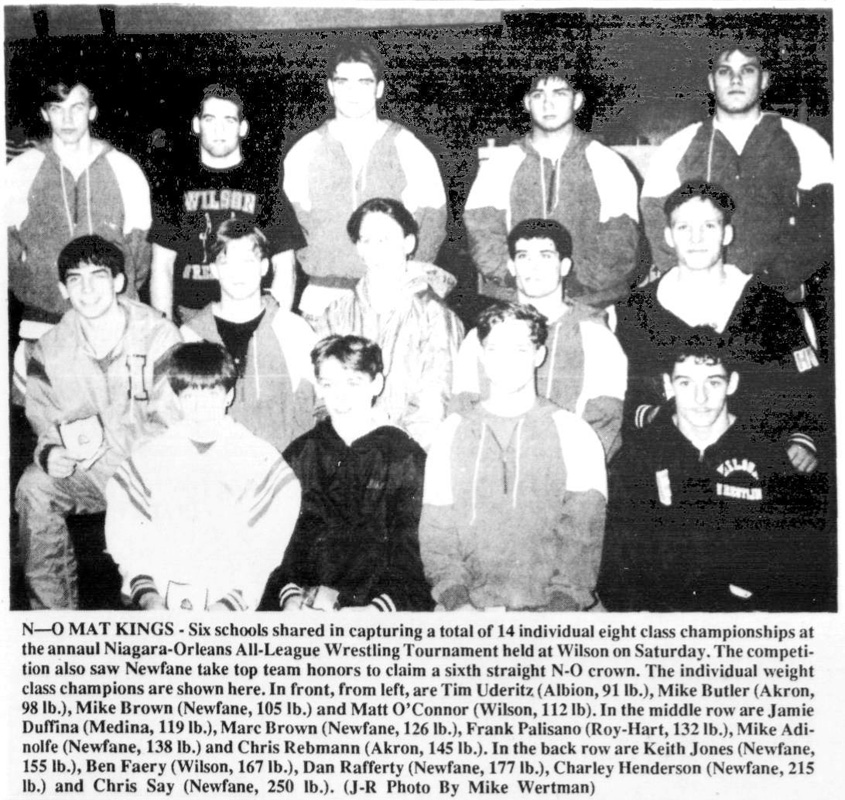 N-O Mat Kings
Six schools shared in capturing a total of 14 weight class championships at the annual Niagara-Orleans All-League Wrestling Tournament held at Wilson on Saturday. The competition also saw Newfane take top team honors to claim a sixth straight N-O crown. The individual weight class champions are shown here. SOURCE: Medina Journal-Register, Tuesday, February 13, 1996. Click for larger image.
Varsity

Team Final

Newfane 214, Akron 115.5, Albion 110.5, Wilson 109, Royalton-Hartland 72, Medina 48, Starpoint 40

Outstanding Wrestler Award - Jamie Duffina (Medina)

Championship Final (1st)


Consolation Final (3rd)



IF YOU HAVE ANY ADDITIONAL PHOTOS OR DOCUMENTATION FROM THIS EVENT, CONTACT INFO@ARMDRAG.COM.

Comments (30th Annual Niagara-Orleans All-League Wrestling Championships)