Palmyra-Macedon Invitational Tournament
January 14, 1989 @ Palmyra-Macedon High School (Palmyra, New York)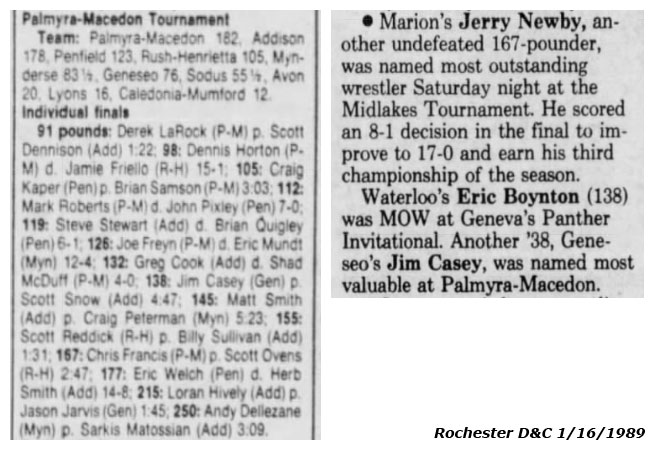 Palmyra-Macedon Tournament
Geneseo 138-pounder Jim Casey was named most valuable at the 1989 Palmyra-Macedon varsity wrestling tournament. SOURCE: Rochester Democrat and Chronicle, Monday, January 16, 1989. Reproduced by armdrag.com with permission.
Varsity

Team Final

Palmyra-Macedon 182, Addison 178, Penfield 123, Rush-Henrietta 105, Mynderse 83.5, Geneseo 76, Sodus 55.5, Avon 20, Lyons 16, Caledonia-Mumford 12

Outstanding Wrestler Award - Jim Casey (Geneseo)

Championship Final (1st)



IF YOU HAVE ANY ADDITIONAL PHOTOS OR DOCUMENTATION FROM THIS EVENT, CONTACT INFO@ARMDRAG.COM.

Comments (Palmyra-Macedon Invitational Tournament)