6th Annual Windsor Christmas Wrestling Tournament
December 28, 1962 - December 29, 1962 @ Windsor High School (Windsor, New York)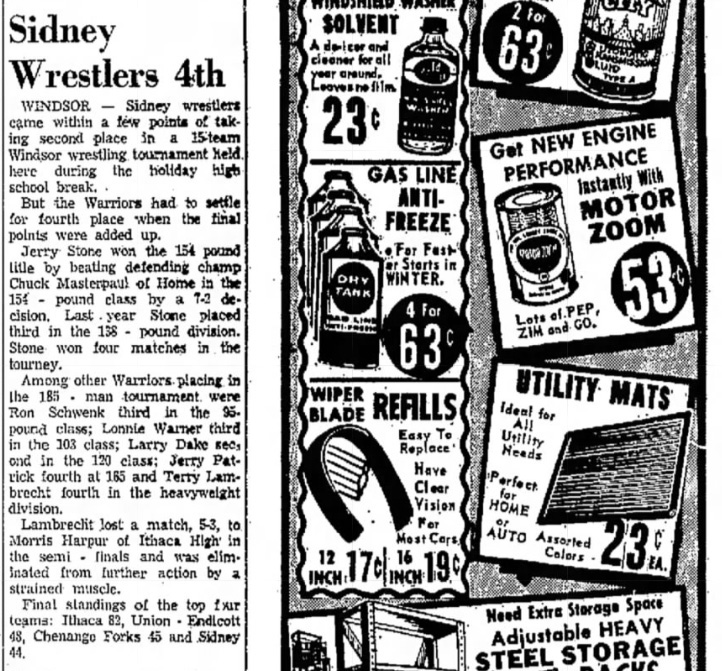 Sidney Wrestlers Fourth
Sidney wrestlers came within a few points of taking second place in a 15-team Windsor wrestling tournament held here during the holiday high school break. SOURCE: The Oneonta Star, January 2, 1963. Click for larger image.
Varsity

Team Final

Ithaca 97, Union-Endicott 48, Chenango Forks 45, Sidney 44, Vestal 40, Forty Fort [PA] 36, Homer 33, Windsor 30, Massena 24, Newark Valley 18, Greene 17, Chenango Valley 12, Sherburne 11, Oneonta 6, Liberty 2

Championship Final (1st)


Consolation Final (3rd)



IF YOU HAVE ANY ADDITIONAL PHOTOS OR DOCUMENTATION FROM THIS EVENT, CONTACT INFO@ARMDRAG.COM.

Comments (6th Annual Windsor Christmas Wrestling Tournament)