18th Annual Caledonia-Mumford Christmas Wrestling Tournament
December 20, 1980 @ Caledonia-Mumford Elementary School (Caledonia, New York)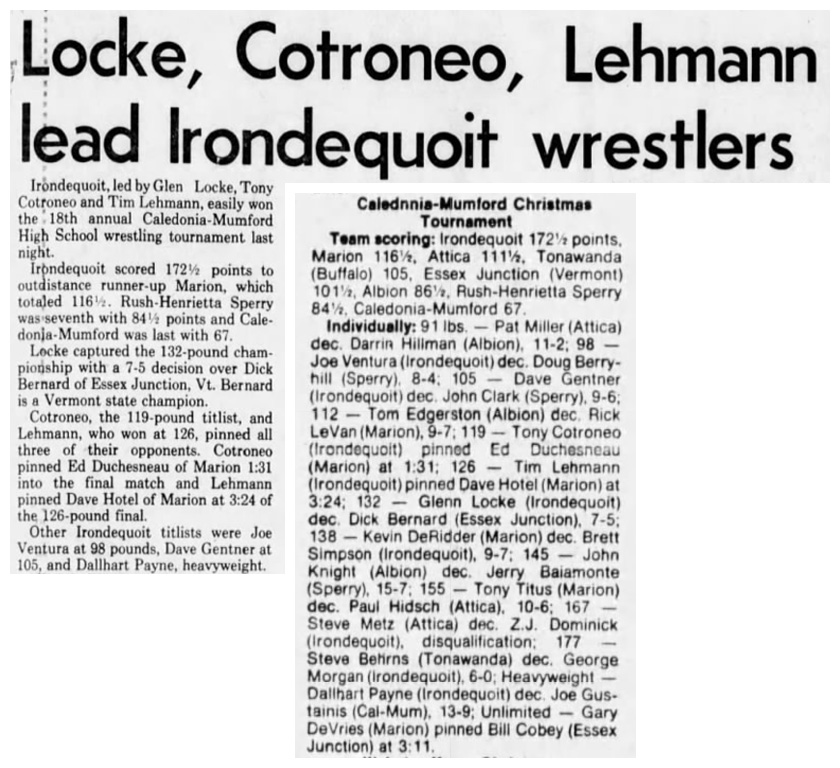 Locke, Cotroneo, Lehmann lead Irondequoit wrestlers
Irondequoit, led by Glen Locke, Tony Cotroneo and Tim Lehmann, easily won the 18th annual Caledonia-Mumford High School wrestling tournament last night. SOURCE: Rochester Democrat and Chronicle, Sunday, December 21, 1980. Reproduced by armdrag.com with permission. Click for larger image.


Varsity

Team Final

Irondequoit 172.5, Marion 116.5, Attica 111.5, Tonawanda 105, Essex Junction [VT] 101.5, Albion 86.5, Rush-Henrietta Sperry 84.5, Caledonia-Mumford 67

Place Winners

98 4. Jeff Hobbs (Marion)
105 4. Scott Doud (Marion)
215 4. Todd Sackett (Marion)

Championship Final (1st)



IF YOU HAVE ANY ADDITIONAL PHOTOS OR DOCUMENTATION FROM THIS EVENT, CONTACT INFO@ARMDRAG.COM.

Comments (18th Annual Caledonia-Mumford Christmas Wrestling Tournament)