15th Annual Byron-Bergen Invitational Tournament
December 4, 2010 @ Byron-Bergen High School (Bergen, New York)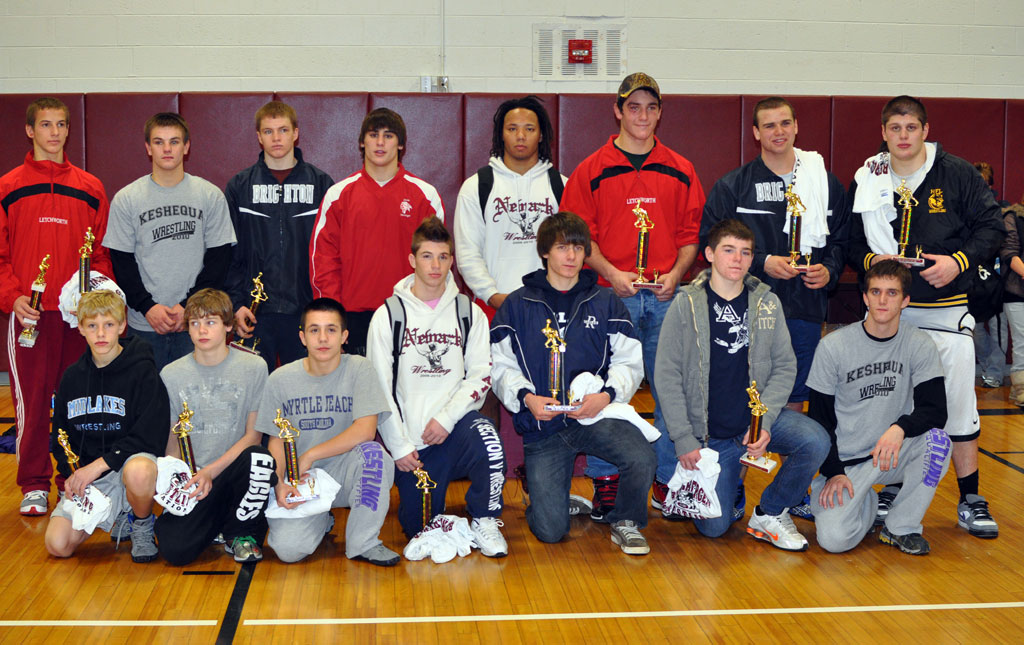 Champions
The 15th Annual Byron-Bergen Invitational Wrestling Tournament champions. FRONT ROW: Sean Peacock (Midlakes), Darrien Woodard (Midlakes), Ralph Mateo (Midlakes), Ian Ross (Newark), Emory Rowe (Ripley), Collin Fox (Midlakes), Travis Baker (Keshequa). BACK ROW: Mihaly Nagy (Letchworth), Korey Gillen (Keshequa), Andrew Pryhuber (Brighton), Chris Nevinger (Letchworth), Alex Cook (Newark), David Woolley (Letchworth), Matt Ingalls (Brighton), Travis Harvey (Alfred-Almond), Jack Weldon (Honeoye Falls-Lima). Click for larger image.
Slideshow: Awards


Varsity

Team Final

Brighton 188, Midlakes 179.5, Letchworth 153.5, Newark 107, St. Joseph's 93, Keshequa 91, Churchville-Chili 84, Sodus 79, East Rochester 63.5, Honeoye Falls-Lima 62, Byron-Bergen 60, Ripley 60, Dansville 56, Alexander 38, Livonia 33, Alfred-Almond 26, Fillmore 23, Pavilion 16

Outstanding Wrestler Award (Lower Weights) - Mihaly Nagy (Letchworth)
Outstanding Wrestler Award (Upper Weights) - Chris Nevinger (Letchworth)

Championship Final (1st)


Consolation Final (3rd)



Junior Varsity

Results not entered.

IF YOU HAVE ANY ADDITIONAL PHOTOS OR DOCUMENTATION FROM THIS EVENT, CONTACT INFO@ARMDRAG.COM.

Comments (15th Annual Byron-Bergen Invitational Tournament)