19th Annual Webster Warrior Wrestling Classic
December 22, 1984 @ Webster Junior High School (Webster, New York)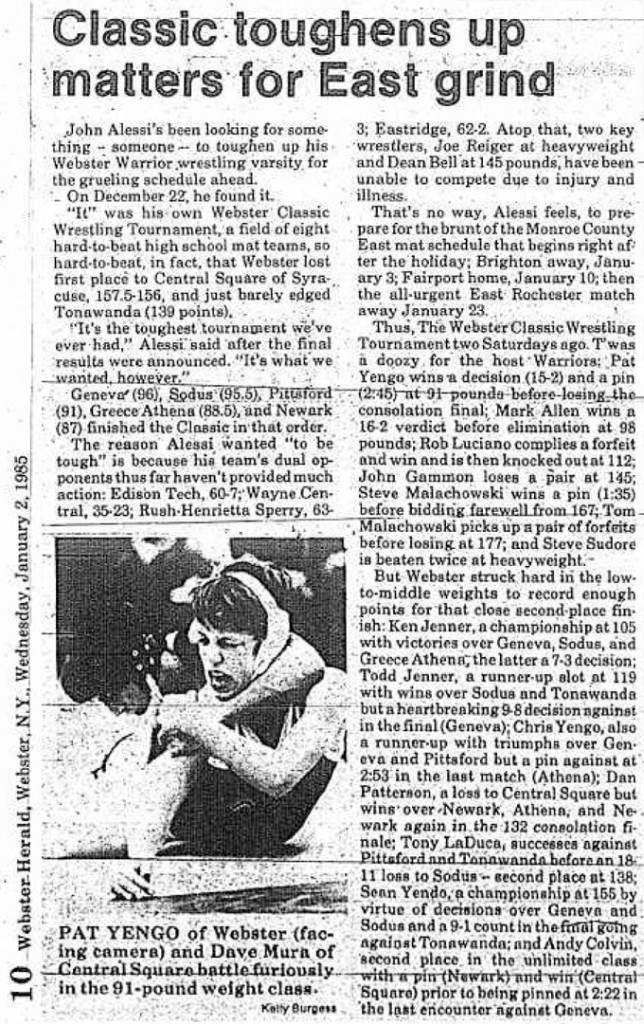 Classic toughens up matters for East grind
John Alessi's been looking for something - someone - to toughen up his Webster Warrior wrestling varsity for the grueling schedule ahead. on December 22, he found it. SOURCE: Webster Herald, January 2, 1985. Click for larger image.


Varsity

Team Final

Central Square 157.5, Webster 156, Tonawanda 139, Geneva 96, Sodus 95.5, Pittsford 91, Greece Athena 88.5, Newark 87

Outstanding Wrestler Award - John Williams (Geneva)

Place Winners

91 4. Pat Yengo (Webster)
167 4. Mike Salotti (Geneva)
250 4. Neil Gates (Newark)

Championship Final (1st)


Consolation Final (3rd)



IF YOU HAVE ANY ADDITIONAL PHOTOS OR DOCUMENTATION FROM THIS EVENT, CONTACT INFO@ARMDRAG.COM.

Comments (19th Annual Webster Warrior Wrestling Classic)