10th Annual Rochester Interscholastic League Wrestling Championships
March 24, 1932 @ Monroe High School (Rochester, New York)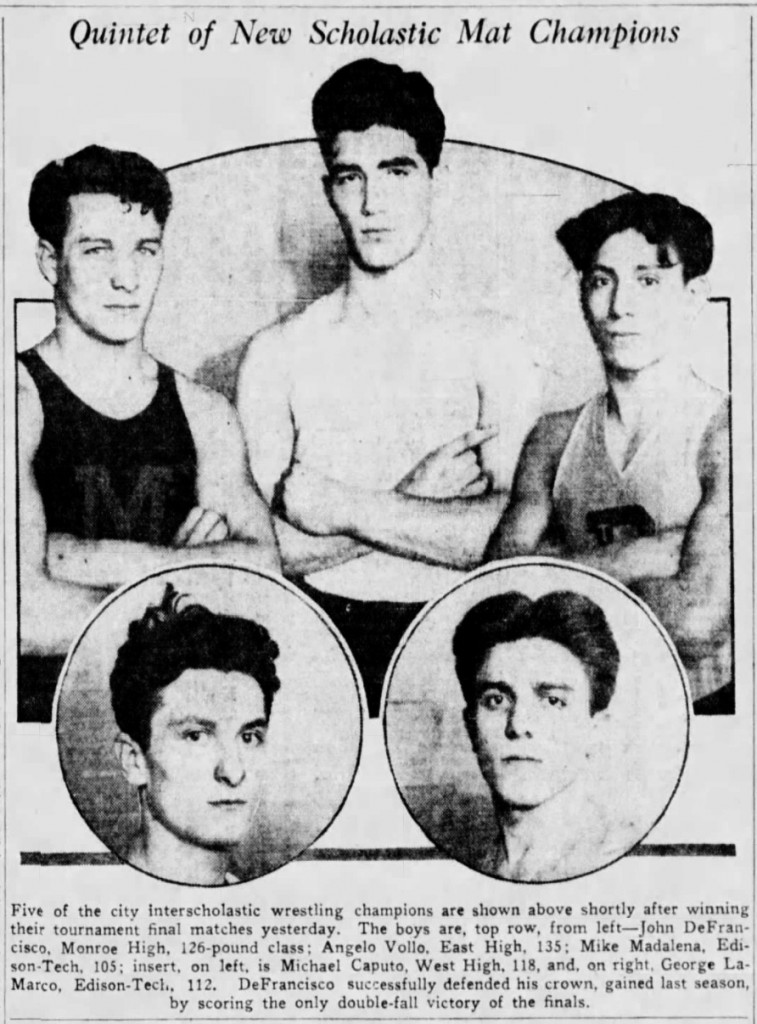 Quintet of New Scholastic Mat Champions
Five of the city interscholastic wrestling champions are shown above shortly after winning their tournament final matches yesterday. The boys are, top row, from left - John DeFrancisco, Monroe High, 126-pound class; Angelo Vollo, East High, 135; Mike Madalena Edison-Tech, 105; insert, on left, is Michael Caputo, West High, 118, and, on right, George LaMarca, Edison Tech, 112. DeFrancisco successfully defended his crown, gained last season, by scoring the only double-fall victory of the finals. SOURCE: Rochester Democrat and Chronicle, Friday, March 25, 1932. Reproduced by armdrag.com with permission. Click for larger image.


Varsity

Team Final

Edison Tech (Rochester) 4, West High (Rochester) 3, East High (Rochester) 1, Monroe (Rochester) 1, Charlotte (Rochester) 0, Franklin (Rochester) 0, Marshall (Rochester) 0

Championship Final (1st)


Championship Semifinals



IF YOU HAVE ANY ADDITIONAL PHOTOS OR DOCUMENTATION FROM THIS EVENT, CONTACT INFO@ARMDRAG.COM.

Comments (10th Annual Rochester Interscholastic League Wrestling Championships)