43rd Annual Rochester Interscholastic League Wrestling Championships
February 19, 1972 @ East High School (Rochester, New York)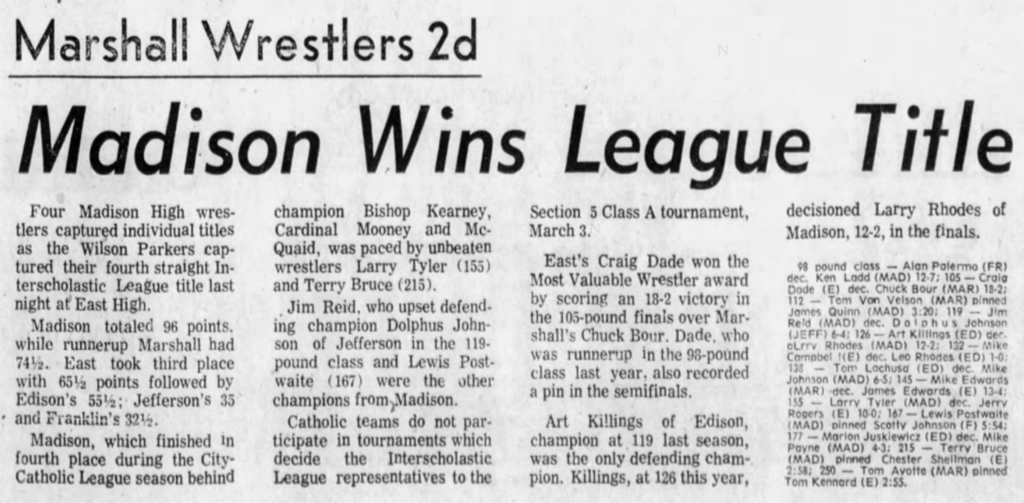 Madsion Wins League Title; Marshall Wrestlers 2nd
Four Madison High wrestlers captured individual titles as the Wilson Parkers captured their fourth straight Interscholastic League title last night at East High. SOURCE: Rochester Democrat and Chronicle, Saturday, February 20, 1975. Reproduced by armdrag.com with permission. Click for larger image.
Varsity

Team Final

Madison (Rochester) 96, Marshall (Rochester) 76.5, East High (Rochester) 65, Edison Tech (Rochester) 55.5, Jefferson (Rochester) 35, Franklin (Rochester) 32.5

Outstanding Wrestler Award - Craig Dade (EHR)

Championship Final (1st)


Consolation Final (3rd)



IF YOU HAVE ANY ADDITIONAL PHOTOS OR DOCUMENTATION FROM THIS EVENT, CONTACT INFO@ARMDRAG.COM.

Comments (43rd Annual Rochester Interscholastic League Wrestling Championships)