47th Annual Rochester City-Catholic League Wrestling Championships
February 21, 1976 @ East High School (Rochester, New York)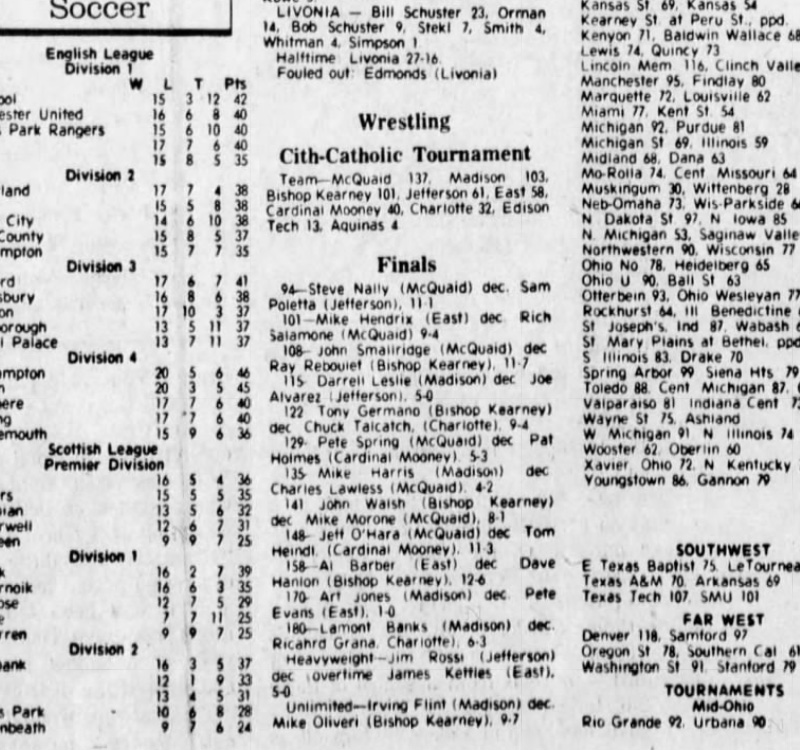 City-Catholic Tournament
McQuaid, which had seven wrestlers in the finals and won four of the matches, captured the tournament title with 137 points. Madison second at 103. SOURCE: Rochester Democrat and Chronicle, Sunday, February 22, 1976. Reproduced by armdrag.com with permission. Click for larger image.
Varsity

Team Final

McQuaid Jesuit 137, Madison (Rochester) 103, Bishop Kearney 101, Jefferson (Rochester) 61, East High (Rochester) 58, Cardinal Mooney 40, Charlotte (Rochester) 32, Edison Tech (Rochester) 13, Aquinas 4

Championship Final (1st)


Consolation Final (3rd)



IF YOU HAVE ANY ADDITIONAL PHOTOS OR DOCUMENTATION FROM THIS EVENT, CONTACT INFO@ARMDRAG.COM.

Comments (47th Annual Rochester City-Catholic League Wrestling Championships)