6th Annual Spencerport Lions Wrestling Tournament
December 30, 1971 @ Spencerport High School (Spencerport, New York)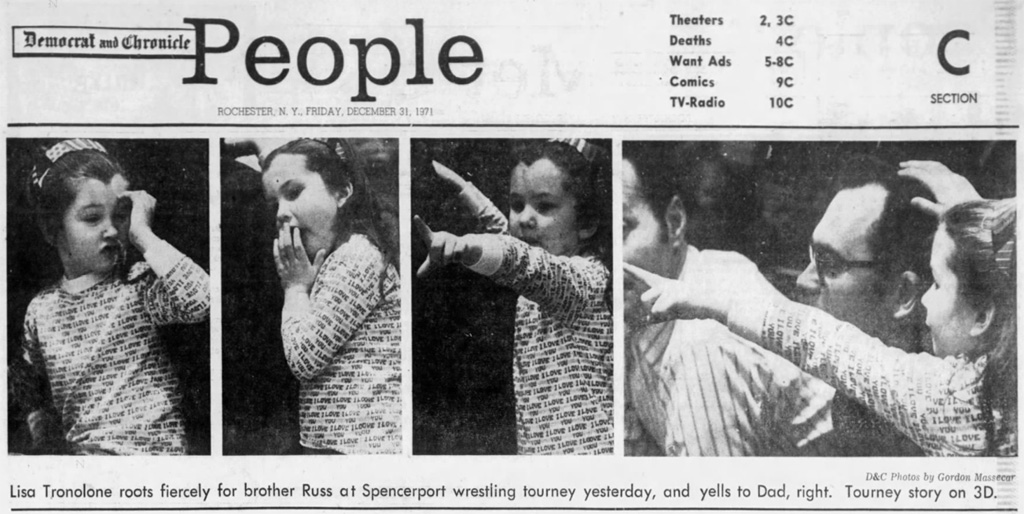 Lisa Tronolone
Lisa Tronolone roots fiercely for brother Russ at Spencerport wrestling tourney yesterday, and yells to Dad, right. SOURCE: Rochester Democrat and Chronicle, Sunday, February 31, 1971. Reproduced by armdrag.com with permission. Click for larger image.
Varsity

Team Final

Spencerport 117, Hilton 108, Geneva 88.5, Tonawanda 73.5, Scotia-Glenville 63, Caledonia-Mumford 61.5, Kenmore East 56, Brighton 34

Aggregate Pin Award - Bill Welsh (Geneva)

Championship Final (1st)


Consolation Final (3rd)



IF YOU HAVE ANY ADDITIONAL PHOTOS OR DOCUMENTATION FROM THIS EVENT, CONTACT INFO@ARMDRAG.COM.

Comments (6th Annual Spencerport Lions Wrestling Tournament)