1st Annual Falconer Invitational Wrestling Tournament
January 4, 1975 @ Falconer High School (Falconer, New York)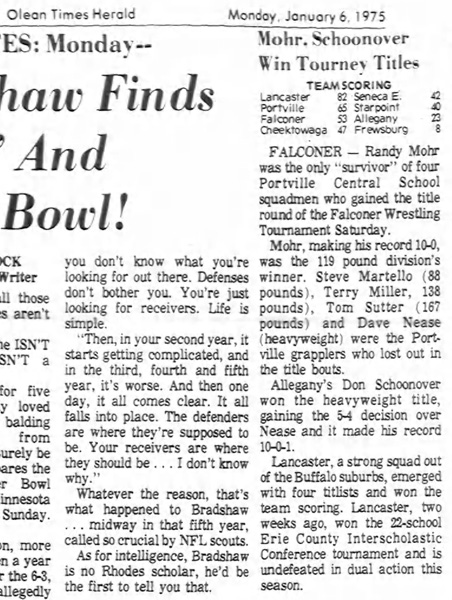 Mohr, Schoonover Win Tourney Titles
Randy Mohr was the only 'survivor' of four Portville Central School squadmen who gained the title round of the Falconer Wrestling Tournament Saturday. SOURCE: Olean Times Herald, Monday, January 6, 1975.
Varsity

Team Final

Lancaster 82, Portville 65, Falconer 53, Cheektowaga 47, West Seneca East 42, Starpoint 40, Allegany 23, Frewsburg 8

Place Winners

88 2. Steve Martello (Portville)
138 2. Terry Miller (Portville)
167 2. Tom Sutter (Portville)

Championship Final (1st)



IF YOU HAVE ANY ADDITIONAL PHOTOS OR DOCUMENTATION FROM THIS EVENT, CONTACT INFO@ARMDRAG.COM.

Comments (1st Annual Falconer Invitational Wrestling Tournament)