12th Annual Sweet Home Wrestling Invitational
January 27, 1984 - January 28, 1984 @ Sweet Home High School (Amherst, New York)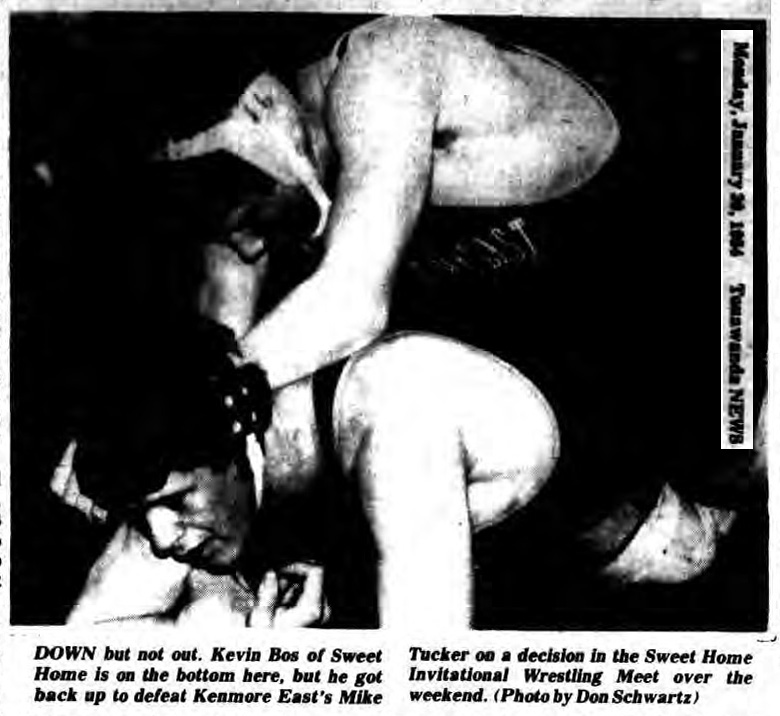 Down But Not Out
Kevin Bos of Sweet Home is on the bottom here, but he got back up to defeat Kenmore East's Mike Tucker in the Sweet Home invitational Wrestling Meet over the weekend. Photo by Don Schwartz. SOURCE: Tonawanda NEWS, January 30, 1984. Click for larger image.

Varsity

Team Final

Sweet Home 201.5, Salamanca 162.5, Olean 159, Pioneer 143, Albion 126, Williamsville North 101, Tonawanda 100, Kenmore East 91.5, Cheektowaga 83.5, Williamsville East 68.5, Kenmore West 56.5, Maryvale 47, Medina 42.5, Bishop Kearney 37, Lancaster 25

Outstanding Wrestler Award - Ron Leder (Salamanca)

Place Winners

112 6. Ray Mikolajczyk (Olean)
119 6. Sean Murray (Pioneer)
126 6. Ron Prescott (Olean)
155 4. Ken Middler (Tonawanda)

Championship Final (1st)


Consolation Final (3rd)


Consolation Final (5th)



IF YOU HAVE ANY ADDITIONAL PHOTOS OR DOCUMENTATION FROM THIS EVENT, CONTACT INFO@ARMDRAG.COM.

Comments (12th Annual Sweet Home Wrestling Invitational)