Wayne-Finger Lakes West Invitational Wrestling Tournament
February 10, 2001 @ Sodus High School (Sodus, New York)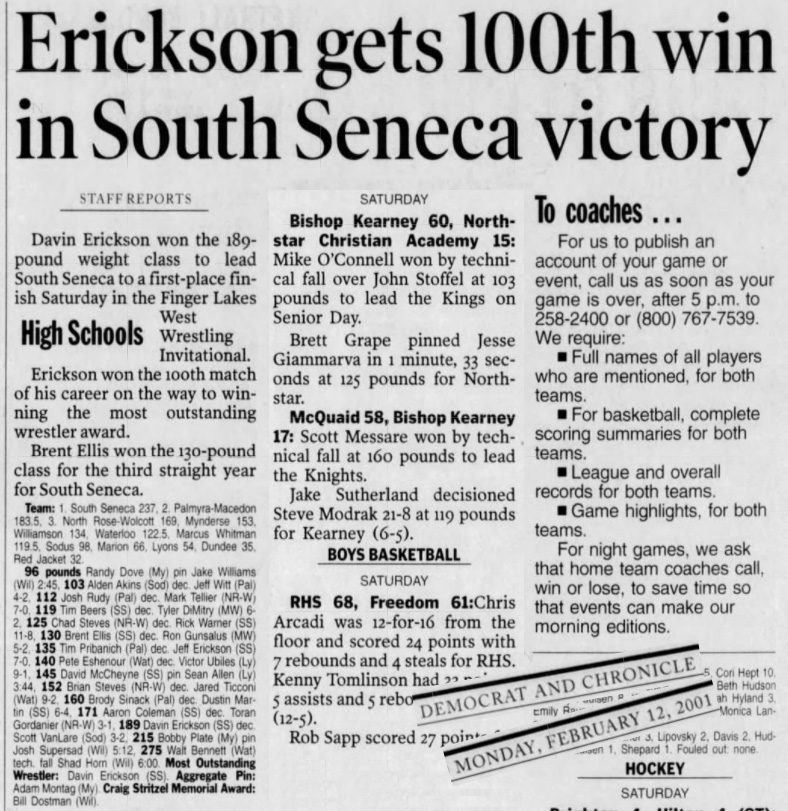 Erickson gets 100th win in South Seneca victory
Davin Erickson won the 189-pound weight class to lead South Seneca to a first-place finish Saturday in the Wayne-Finger Lakes West Wrestling Invitational. SOURCE: Rochester Democrat and Chronicle, February 12, 2001. Reproduced by armdrag.com with permission. Click for larger image.

Varsity

Team Final

South Seneca 237, Palmyra-Macedon 183.5, North Rose-Wolcott 169, Mynderse 153, Williamson 134, Waterloo 122.5, Marcus Whitman 119.5, Sodus 98, Marion 66, Lyons 54, Dundee 35, Red Jacket 32

Outstanding Wrestler Award - Davin Erickson (SS)

Place Winners

125 4. Josh Imperato (Williamson)
135 4. Richie Leisenring (Williamson)

Championship Final (1st)


Consolation Final (3rd)



IF YOU HAVE ANY ADDITIONAL PHOTOS OR DOCUMENTATION FROM THIS EVENT, CONTACT INFO@ARMDRAG.COM.

Comments (Wayne-Finger Lakes West Invitational Wrestling Tournament)