31st Annual Southern Tier Wrestling Conference Tournament (D2)
February 6, 1993 @ Ripley High School (Ripley, New York)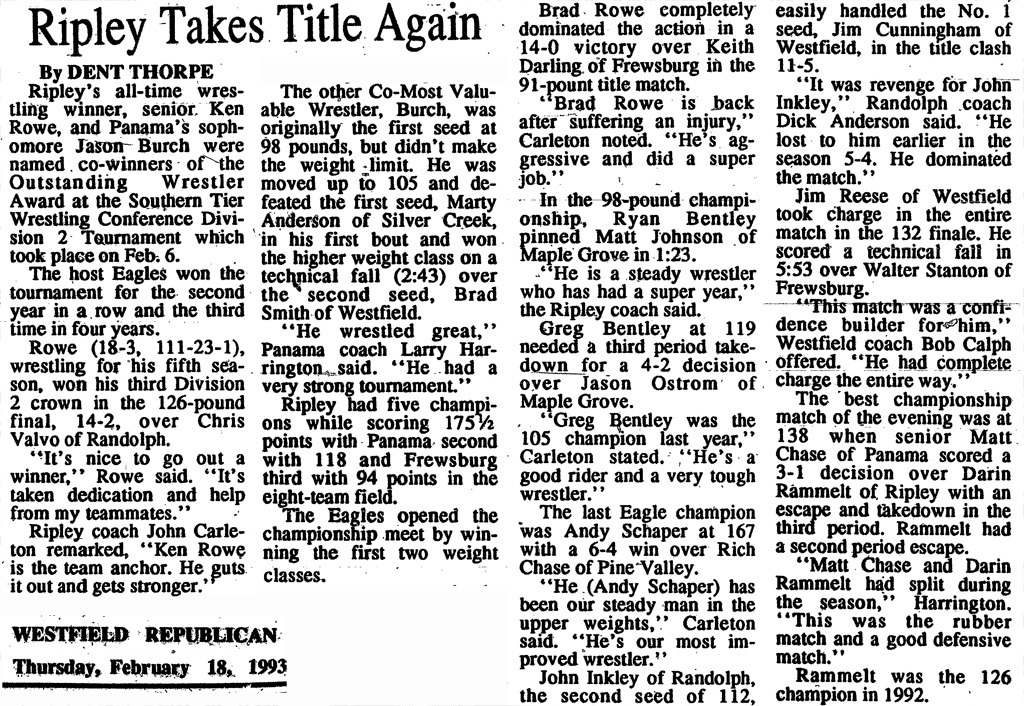 Ripley Takes Title Again
Ripley's all-time wrestling winner, senior Ken Rowe, and Panama's Jason Burch were named co-winners of the Outstanding Wrestler Award at the Southern Tier Wrestling Conference Division 2 Tournament. SOURCE: Westfield Republican, February 18, 1993. Click for larger image.
Varsity

Teams

Frewsburg, Maple Grove, Panama, Pine Valley, Randolph, Ripley, Silver Creek, Westfield

Outstanding Wrestler Award - Jason Burch (Panama)
Outstanding Wrestler Award - Ken Rowe (Ripley)

Championship Final (1st)


Consolation Final (3rd)



IF YOU HAVE ANY ADDITIONAL PHOTOS OR DOCUMENTATION FROM THIS EVENT, CONTACT INFO@ARMDRAG.COM.

Comments (31st Annual Southern Tier Wrestling Conference Tournament (D2))