Monroe County League Wrestling Championships
January 31, 1986 - February 1, 1986 @ Webster Schroeder Junior High School (Webster, New York)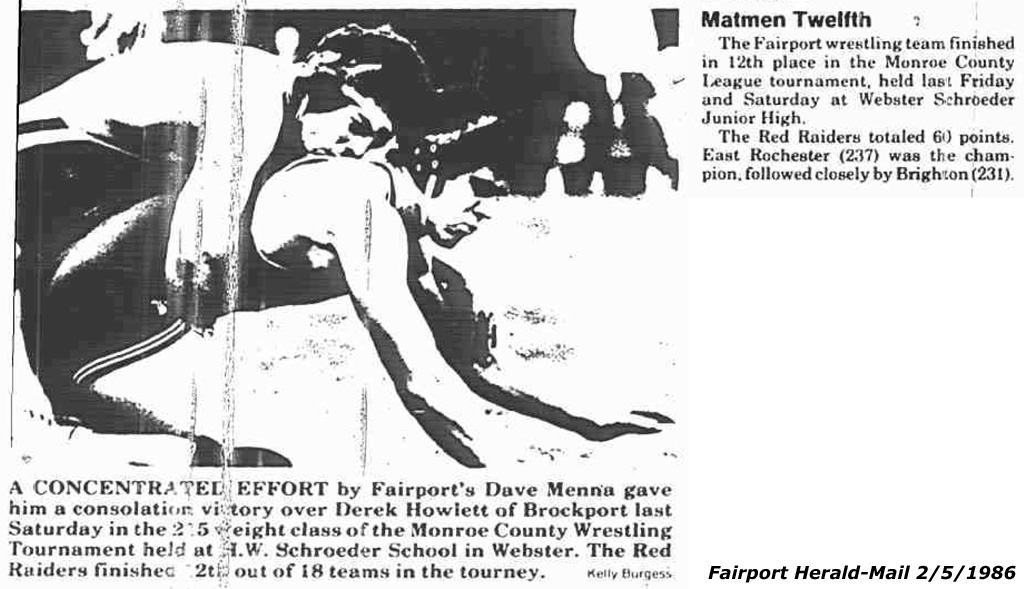 A Concentrated Effort
A CONCENTRATED EFFORT by Fairport's Dave Menna gave him a consolation victory over Derek Howlett of Brockport last Saturday in the 215 weight class of the Monroe County Wrestling Tournament held at H.W. Schroeder School in Webster. SOURCE: Fairport Herald-Mail, Wednesday, February 5, 1986. Click for larger image.

Varsity

Team Final

East Rochester 237, Brighton 231.5, Spencerport 181, Hilton 130.5, Batavia 100, Brockport 88, Penfield 85, Webster 83.5, Greece Athena 81.5, Gates Chili 78.5, Irondequoit 77, Fairport 60, Greece Olympia 54.5, Pittsford 51, Churchville-Chili 47.5, East Irondequoit Eastridge 34, Rush-Henrietta 20.5, Greece Arcadia 12.5

Outstanding Wrestler Award - Mike LoPresti (Spencerport)

Championship Final (1st)


Consolation Final (3rd)


Consolation Final (5th)



IF YOU HAVE ANY ADDITIONAL PHOTOS OR DOCUMENTATION FROM THIS EVENT, CONTACT INFO@ARMDRAG.COM.

Comments (Monroe County League Wrestling Championships)