Monroe County League Wrestling Championships
January 26, 2007 - January 27, 2007 @ Webster Schroeder High School (Webster, New York)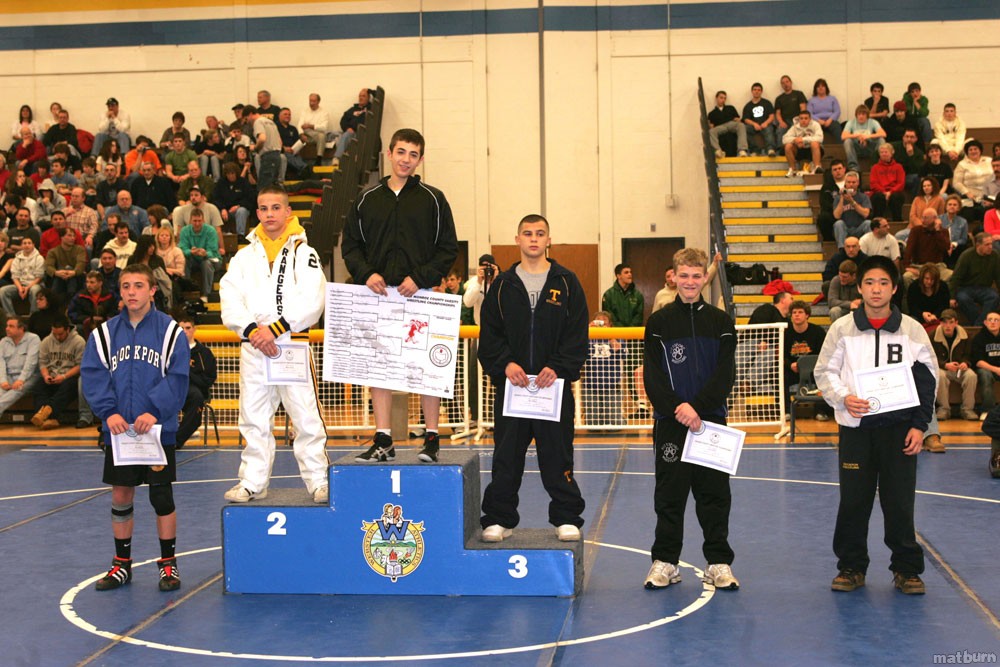 103 pounders
The 96-pound placewinners receive their awards at the 2007 Monroe County Wrestling Championships. From let to right: Dan Schickler (Brockport, 4th), Steve Joerger (Spencerport, 2nd), Alex Marianetti (Greece Athena, 1st), Ben Oliveri (Webster Thomas, 3rd), Cameron Kelly (Pittsford, 5th), Shin Wakabayashi (Brighton, 6th). Photo by James Lathrop. Click for larger image.



Varsity Boys

Team Final

Spencerport 200, Brockport 145, Hilton 143.5, Webster Thomas 127, Penfield 115.5, Rush-Henrietta 109.5, Brighton 108, Fairport 90, Pittsford 88, Greece Olympia 72.5, Batavia 54, Greece Athena 53, Webster Schroeder 44.5, Churchville-Chili 26, Gates Chili 25, Irondequoit 21.5, Greece Arcadia 19, East Irondequoit Eastridge 17

Outstanding Wrestler Award - Erik Schuth (Brockport)

Championship Final (1st)


Consolation Final (3rd)


Consolation Final (5th)



IF YOU HAVE ANY ADDITIONAL PHOTOS OR DOCUMENTATION FROM THIS EVENT, CONTACT INFO@ARMDRAG.COM.

Comments (Monroe County League Wrestling Championships)